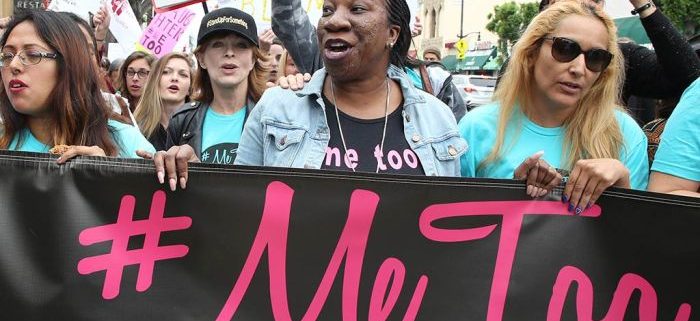 What the Church Can Learn from #Metoo
Melissa Cedillo 
I am a recent graduate from Loyola Marymount University where I received a bachelor's degree in Theology. I write as a theologian, a convert, a current Catholic volunteer and a concerned member of the Church.  
This past year I have watched the power of the #metoo movement, started by Tarana Burke in 2006, create a space for survivors to come forward about their sexual assaults. The justice that is demanded by this movement has, in many circles, purged those who abuse their power for sexual gain, thereby providing palpable examples of accountability. #Metoo highlighted the reality of abuse and emphasized what can happen when a community pushes survivors to speak truth. The beauty that can emerge from reconciling trauma in the public sphere is not to be underestimated. #Metoo has empowered survivors to come forward and convicted abusers. Therefore, we should use the depths of #metoo to shed light on how to respond to the despair in our Church.
Most notably, we can use the methodology of #metoo to examine the Catholic hierarchy, as well as, the lack of gender and race diversity within the Church. With over 1,000 victims identified in Pennsylvania, there is clearly a need to rethink how the Church is structured; in fact, to not do so would be a sin. As members of this (human) institution, we have a right to be angry and demand accountability. Further, survivors have the right to feel that the #metoo movement can find a place in the Church. It is important to remember that #metoo kept the focus on the most vulnerable: the survivors, not the abusers. As the abusers and those who kept their actions private are held accountable we must not let that cloud from the survivors whose voice has been forgotten for far too long.
Thoughts and prayers from bishops will not suffice. Nor will Bishops who downplay this crisis or aim to defer the conversation to homosexuality. Statements from bishops are simply faith without good works. If the Church wants to sustain itself, it needs to look at the "Signs of the Times": young people are leaving the Church! And honestly, can anyone blame them? Many Catholics have to search outside of their faith community for healing.
I urge the Church to rethink the all-male hierarchy. Consider the ways in which toxic masculinity is hurting our Church. One has to wonder if this abuse would have been kept quiet had there been women weaved into this hierarchy. Imagine a Church where a true representation of what the Church looks like is present in it's leadership. Scripture refers to Wisdom as "She"; envision a Sunday where we hear the female voice of wisdom. It is imperative to revisit the idea of women deacons. The Church has reached a pivotal moment where it will either become more proactive or limit itself to reacting as each new crisis unfolds. Throughout history, people have viewed the Church as a moral compass. How the Church proceeds will determine its future moral authority.
As an advocate and ally for survivors of sexual assault, I have reached a crossroad. In this moment, I find it difficult to be part of an institution that is perpetuating systemic injustices. As the news of the scandal broke I was surrounded by 20 Sisters of Loretto some of whom had committed over 50 years of their life to serving the Church. Although heartbreaking, it was not shocking to these women. I am still letting that sink in. They were not surprised that their Church could commit such heinous acts.
Many express that their relationship with Jesus is what keeps them going, but a relationship with Jesus is not what separates Catholics from others. It is the sacraments, the tradition, and the Eucharist. This means the solution to this injustice must be holistic, rethinking the entire structure. I will always have my relationship with God and with the Eucharist, but will I always be able to stand proudly and profess myself Catholic?
https://www.waterwomensalliance.org/wp-content/uploads/metoo-womens-march.jpg
437
700
waterstaff
http://www.waterwomensalliance.org/wp-content/uploads/water-logo-rgb-300dpi-1030x208.png
waterstaff
2018-09-18 13:58:49
2018-09-18 13:58:49
What the Church Can Learn from #Metoo