Apply for an Internship at WATER
The WATER Internship program offers an opportunity to learn how a small non-profit runs and to see what it takes to nurture and maintain a wide network of feminists and activists worldwide who focus on faith and justice. Interns help with program planning and fundraising as well as access to WATER's extensive feminist theological library. Internships are unpaid, though WATER helps with logistics such as finding housing. Interns commit to a minimum of six weeks, and can serve for a year or more. Some interns are placed through their universities and others through religious volunteer programs such as Mennonite Voluntary Service, the Loretto Volunteer Program, and Wesley Theological Seminary. Others simply come on their own. Find more information and an application here! 
In the News
Vatican Sexual Abuse Meeting Is Destined to Fail – To Stop the Problem or the Decline
With no women, lay people, or survivors invited, nothing will change and everyone will go home feeling righteous about having "done" something. The something will be more prayer than policy, more story than analysis, more circling the wagons than opening the doors to the light of justice. – Mary E. Hunt. Full article link here.
---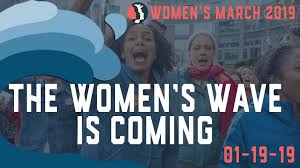 It's Time to March Again
WATER Staff and Alliance will be marching in Washington, DC, and in cities across the globe. Saturday, January 19, 2019. Join us!
---
WATER Attends 40th Annual Concert of the Interfaith Conference of Metropolitan Washington, DC
We saw hope in action at this moving and important concert administered by WATER colleague Judy Bond. Muslim, Mormon, Jewish, Zoroastrian, Buddhist, and Bahia community groups offered artistic expressions of faith in a large, welcoming synagogue. There is much to be said for a Democratic senator presenting a service award to a Republican counterpart. Troubled times make such gestures powerful. Watching young Muslims, most in headscarves, sing "Stand By Me" was enough to make the hardest heart break open in hope. Ours did.
---
Women-Church Convergence to Catholic Hierarchy: "No More Abuse!"
We, the undersigned members of Women-Church Convergence, a coalition of 28 feminist groups rooted in Catholic tradition, say to the Catholic hierarchy and leadership throughout the world, "No More Abuse!"
Survivors of sexual, physical, emotional, and spiritual abuse perpetrated by those representing the Roman Catholic institution are scarred for life. The cover-up by the Vatican and its cardinals is in total opposition to the teaching of Jesus and the Gospel. The Catholic community is facing a pastoral emergency of epic proportions!
---

For the New Year
by Denise Levertov
I have a small grain of hope –
one small crystal that gleams
clear colors out of transparency.
I need more.
I break off a fragment
to send you.
Please take
this grain of a grain of hope
so that mine won't shrink.
Please share your fragment
so that yours will grow.
Only so, by division,
will hope increase.
Like a clump of irises,
which will cease to flower
unless you distribute
the clustered roots, unlikely source –
clumsy and earth-covered –
of grace.
Denise Levertov, Poems 1972-1982
(New Directions, 2001)
Watch Historic Video:
WATER at 35 and Forward!
Join the WATER Community!