Women's Church Convergence Panel and Discussion
Saturday, April 6, at 1:00 – 4:00 pm ET
Swarthmore Friends Metting House in Swarthmore, PA
Panel and discussion sponsored by the Women's Church Convergence about how equality can flourish in a multi-racial, multi-cultural, multi-national, and multi-generational church.
Click Here to Learn More
It's hard to name a state or religious group that's done more than the Holy See to thwart the spirit and the letter of CSW which affirms that the fundamental freedoms of all women and girls is essential for the achievement of gender equality.
The recently concluded Vatican summit on sexual abuse in the church was framed in the same old top-down way that's at the heart of the problem. Lay people, both women and men, experts in the law, psychology, and theology were excluded. What could be more wrong with this picture?
Joan Chatfield, a longtime friend of WATER, passed away last week. She was a Maryknoll Sister in Hawaii who had a distinguished career and life in inter-religious work. We join her sisters and many friends in mourning her passing and delighting in her fruitful life.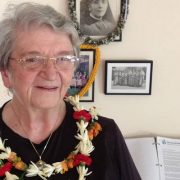 With no women, lay people, or survivors invited, nothing will change and everyone will go home feeling righteous about having "done" something. The something will be more prayer than policy, more story than analysis, more circling the wagons than opening the doors to the light of justice.
We, the undersigned members of Women-Church Convergence, a coalition of 28 feminist groups rooted in Catholic tradition, say to the Catholic hierarchy and leadership throughout the world, "No More Abuse!"
Survivors of sexual, physical, emotional, and spiritual abuse perpetrated by those representing the Roman Catholic institution are scarred for life. The cover-up by the Vatican and its cardinals is in total opposition to the teaching of Jesus and the Gospel. The Catholic community is facing a pastoral emergency of epic proportions!
Watch Historic Video: WATER at 35 and Forward!
Join the WATER Community!