WATERmeditation
—
Monday, April 6, at 7:30 pm ET
Monday, May 4, at 7:30 pm ET
Monday, June 8, at 7:30 pm ET
Monday, July 6, at 7:30 pm ET
WATERtalk
Wednesday, April 8, at 1:00 pm ET 
Wednesday, May 6, at 1:00 pm ET 
Wednesday, June 10, at 1:00 pm ET 
Wednesday, July 8, at 1:00 pm ET 
WATERritual
Tuesday, March 24, at 7:30 pm ET
—
Tuesday, April 21, at 7:30 pm ET
Tuesday, May 19, at 7:30 pm ET
Tuesday, June 16, at 7:30 pm ET
Tuesday, July 21, at 7:30 pm ET
Order New Book by Diann L. Neu Today!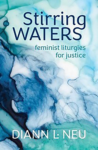 For years, religious leaders and communities around the world have turned to the Women's Alliance for Theology, Ethics, and Ritual (WATER) for feminist liturgies for justice. Now—in celebration of the organization's thirty-fifth anniversary—Stirring Waters gathers fifty-two of these beautiful liturgies, ready-made to help your community celebrate powerful women of faith, develop a richer and deeper spirituality, and take real action for justice.
Use the liturgies in this book as a resource to nourish souls and focus passions. Reflect on great women like the prophetess Miriam and Julian of Norwich; provoke and disturb on occasions like Earth Day and World Water Day; energize on International Women's Day and Black History Month; and rejuvenate drooping spirits with liturgies of healing and gratitude. Never again will you scramble or struggle to provide community prayer that is worthwhile, nourishing, and even electrifying.
Request your copy by ordering online or by sending a check to the WATER office (to be released March 2020).
Come Intern at WATER! 
Are you or someone you know interested in learning the ins and outs of a feminist nonprofit? We welcome you to the table—WATER is now accepting internship applications!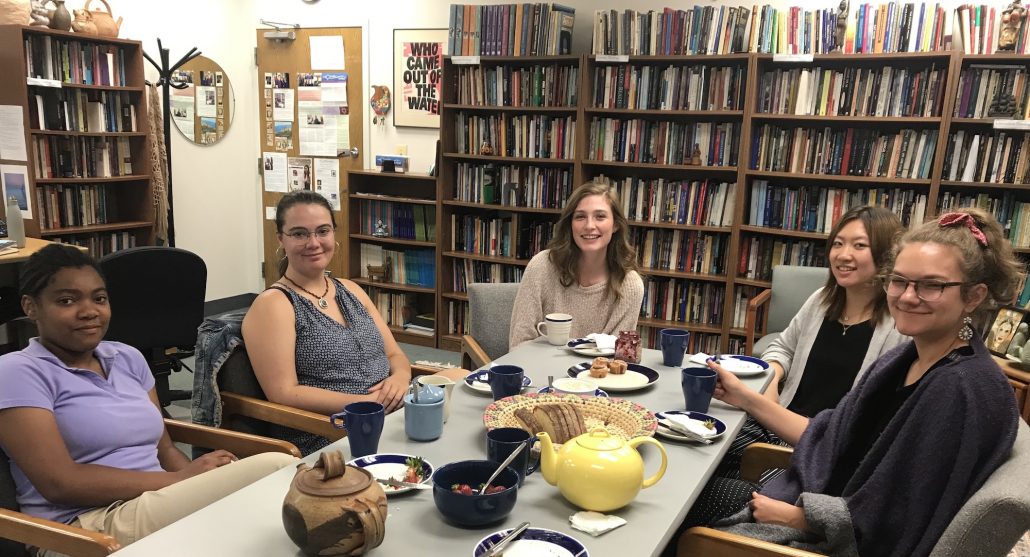 Summer 2019 Interns enjoying tea in the WATER office, left to right: Kennedy Thedford, Melissa Feito (Summer 2017), Claire Coker, Kali Lo-Ng, and Emily Neufeld in the WATER office in 2019.
For over 36 years, WATER has hosted and trained more than 85 interns. We offer an opportunity to learn how a small non-profit operates and see what it takes to empower and sustain a wide network of feminists and activists across the country and worldwide.
Here are just some of the opportunities WATER interns have:
Program and event planning
Assistance with writing and editing projects such as WATERtalks, WATERrituals, WATERcast, WATERwheel newsletters, journal and web articles, books, and presentations
Non-profit fundraising
WATER community outreach via phone, email, and listserv to our broad network of colleagues
Hosting Visiting Scholars, ministers and guests
Maintenance of social media platforms including the website, Twitter, Instagram, Facebook, and more
Read and review the latest feminist books and films
Attend social justice events and rallies in the DMV area
Join or initiate conversations with prominent feminist scholars, activists, religious leaders, and more
Applications are accepted throughout the year, and interns are invited to come at any time. Click here for more information about the internship. Feel free to start filling out the WATER Intern App 2019 (PDF version) or WATER Intern App 2019 (Word doc). Contact the office with other questions at (301) 589-2509 or send an email to waterstaff@waterwomensalliance.org.
We hope that you or a young feminist you know is interested in working with us at WATER!
Pope Francis dithering About Women, Skittish About Cops
By Mary E. Hunt
"In continuing to oppose women's ordination the pope argues that something has to be revealed in order for it to be done; but that we don't do it so it must not have been revealed. A cursory examination of change on Catholic views of the death penalty and usury make quick mincemeat of that argument. Revelation provides direction toward increased justice; it's not a checklist of historical givens."
Watch Historic Video: WATER at 35 and Forward!
Join the WATER Community!