WATERtalks: Feminist Conversations in Religion Series 
"She Lives!
Sophia Wisdom Works
in the World"
With Jann Aldredge-Clanton
Wednesday, March 4, 2015 at 1 PM EST
---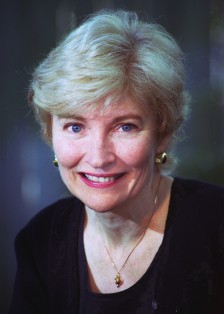 Jann Aldredge-Clanton is an ordained minister, author, teacher, and chaplain. She currently serves as adjunct professor at Perkins School of Theology and Richland Community College, Dallas, Texas. She also serves as co-chair of Equity for Women in the Church, Inc., on the council of Evangelical & Ecumenical Women's Caucus-Christian Feminism Today (EEWC-CWT), and on the board of Dallas Workers' Rights Board. A native of Louisiana, Jann received the B.A. degree from Louisiana Polytechnic University, the M.A. and Ph.D. degrees from Texas Christian University, and the M.Div. from Southwestern Theological Seminary.
She is the author of She Lives! Sophia Wisdom Works in the World; Changing Church: Stories of Liberating Ministers; Inclusive Hymns for Liberation, Peace, and Justice; Seeking Wisdom: Inclusive Blessings and Prayers for Public Occasions; Inclusive Hymns for Liberating Christians; Breaking Free: The Story of a Feminist Baptist Minister; In Search of the Christ-Sophia: An Inclusive Christology for Liberating Christians; Imagine God! A Children's Musical Exploring and Expressing Images of God, as well as many other books and articles.
Recommended Reading:
Email Cathy Jaskey at waterstaff@hers.com if you have any trouble registering or need more information. Thank you!
https://www.waterwomensalliance.org/wp-content/uploads/jann.jpg
314
224
waterstaff
http://www.waterwomensalliance.org/wp-content/uploads/water-logo-rgb-300dpi-1030x208.png
waterstaff
2015-02-03 11:32:33
2016-03-24 15:50:22
March 4 WATERtalk with Jann Aldredge-Clanton