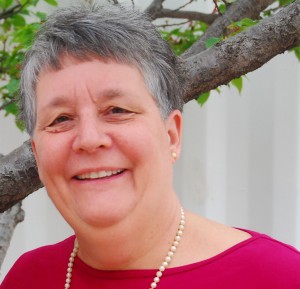 A Feminist Conversation on Catholic Patriarchy: What the Papal Transition Means and What Feminists Can Do About It
**MONDAY,** March 4, 2013
1 pm – 2 pm EST
**NOTE THIS SPECIAL TIME**
RSVP by 10 AM Monday, March 4, 2013
Mary E. Hunt will offer an overview of the papal transition as a classic example of patriarchy unfolding for the world to see live. She will explore the religious significance of elite, exclusionary approaches to governance. Dr. Hunt will look at the social implications of the world's largest Christian denomination modeling a monarchical way of being in an increasingly democratic world. She will suggest several feminist strategies for countering this approach and creating constructive new ways of being church that focus on participation, safety, and accountability.
Mary E. Hunt, Ph.D., is a feminist theologian who is co-founder and co-director of the Women's Alliance for Theology, Ethics and Ritual (WATER) in Silver Spring, Maryland, USA. A Catholic active in the women-church movement, she lectures and writes on theology and ethics with particular attention to social justice concerns.
Dr. Hunt was Adjunct Assistant Professor of Women's Studies at Georgetown University for five years. She has lectured and taught at numerous institutions worldwide including Iliff School of Theology in Denver; Pacific School of Religion in Berkeley; Lancaster Theological Seminary; ISEDET in Buenos Aires, Argentina; Catholic University in Saõ Leopoldo, Brazil; and Centro Diego de Medellin in Santiago, Chile. For the 2000-2001 academic year she was at Harvard Divinity School as a Research Fellow at the Center for the Study of Values in Public Life.
She is a co-editor with Diann L. Neu of New Feminist Christianity: Many Voices, Many Views (SkyLight Paths Publishing, 2010). She is the editor of A Guide for Women in Religion: Making Your Way from A to Z (Palgrave, 2004) and co-editor, with Patricia Beattie Jung and Radhika Balakrishnan, of Good Sex: Feminist Perspectives from the World's Religions (Rutgers University Press, 2001). She is the author of Fierce Tenderness (Crossroad, 1980).
Among her many publications are articles in theJournal of Feminist Studies in Religion, Concilium,Conscience, Religion Dispatches, and Mandragora. She has published chapters in books such as Feminist Theologies: Legacy and Prospect (ed. Rosemary Radford Ruether), Heterosexism in Contemporary World Religion: Problem and Prospect (ed. Marvin M. Ellison and Judith Plaskow), God Forbid (ed. Kathleen Sands) and many others.
Recommended readings on this topic by Mary E. Hunt:
"Smoke Gets in Your Eyes."  (Posted originally on Feminist Studies in Religion blog.)
"Papal Retirement: A Matter of Conscience." (Posted originally on Religion Dispatches.)
Email "Register Me Teleconference" to waterstaff@waterwomensalliance.org by 10 AM Monday, March 4 in order to receive dial-in information.
http://www.waterwomensalliance.org/wp-content/uploads/water-logo-rgb-300dpi-1030x208.png
0
0
waterstaff
http://www.waterwomensalliance.org/wp-content/uploads/water-logo-rgb-300dpi-1030x208.png
waterstaff
2013-02-28 16:21:58
2016-03-23 16:20:06
March 4 Teleconference with Mary E. Hunt