By Dana Tufariello, Intern, Summer 2016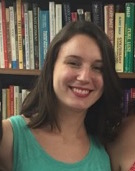 While reflecting on my experience at WATER this summer, I thought of all the times I told family and friends "this has to be the best summer of my life!" Every day at WATER I learned something completely new, and I know that I'll be a much more empowered and educated woman once I leave WATER. I admire all of the wonderful work you do for women around the world.
While editing Diann's book, I found that there were so many ways to worship that I had never thought of. I learned the same from working on rituals- I was so used to either Mass or meditation, and nothing else. Diann, you have taught me so much about spirituality. I so look up to the work you do on spirituality and the healing of abuse.
One of the other highlights of this summer was simply sitting down for lunch with everyone. I loved all of the knowledge that Mary shared and felt so empowered by it (as well as amused by many of the stories!) Mary, you have definitely encouraged me to speak my mind more often- while finding humor in discouraging situations.
I know that I will miss having such a safe and supportive space to work in, though I look forward to visiting (and hopefully bringing more Italian cookies with me!) I really can't think of any words that could adequately describe my experience at WATER, I just know that it has been a complete blessing in my life for which I will be forever grateful.
Warmly,
Dana, WATER Summer '16
https://www.waterwomensalliance.org/wp-content/uploads/dana.jpeg
171
135
waterstaff
http://www.waterwomensalliance.org/wp-content/uploads/water-logo-rgb-300dpi-1030x208.png
waterstaff
2016-07-01 17:21:45
2017-02-01 17:23:08
A Reflection from Dana