By Kate Stoltzfus
WATER Staff Associate from 2014-2015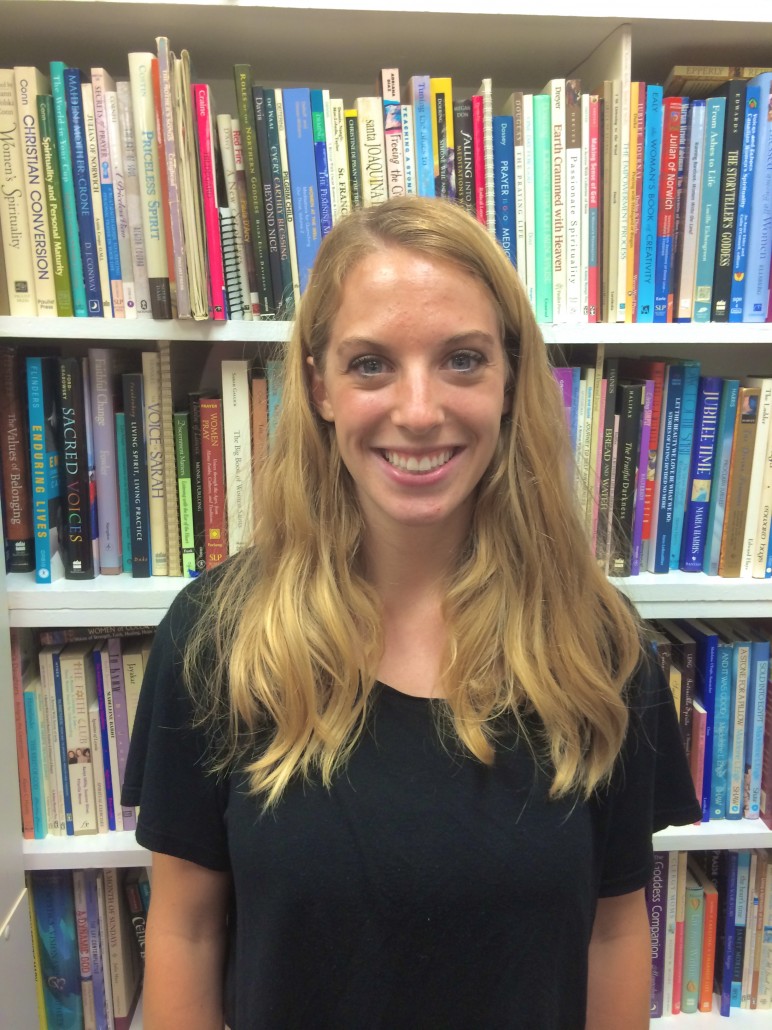 We started by rolling out the carpet. Upon my arrival at the Women's Alliance for Theology, Ethics, and Ritual last August, the first task was to unfurl two thick oriental rugs that would rest all year on the office floor. The carpet's girth took two of us – my coworker, Cathy, on the other side – before its deep blue and salmon hues were visible, the wrinkles worked out. The rug filled the length of WATER's library, a conference table atop the pattern.
On that rug I would spend countless hours with the women of WATER. That rug was the meeting place for discussion of daily news happening outside the office walls. We lit candles for meditation on that rug, sat silent in the dark, hosted hundreds of scholars and friends for tea, shared our lunches and our thoughts. We licked thousands of envelopes to mail, wrote grants and fostered conversation with our monthly presentations by feminists around the globe. We talked to Carol Adams and Elisabeth Schussler Fiorenza on that rug. In short, the rug blew my mind.
Before I came to WATER, I had never taken the time to learn in depth the role of feminism in culture and in religion: its history, its past and present thinkers and leaders, its struggles and shortcomings in sometimes leaving out class and race, and its necessity. My theology and feminist courses were few. I naively believed that my feminism could just exist. I had always been a feminist, and of course I advocated for equality and empowerment. How much I denied myself. Our work is far from over.
WATER gave me the words and gut to express what I have always felt deep in my bones. WATER gave voice to what I knew I believed, but couldn't always express. It felt as if everything was finally articulated. Here was where I could learn to say what must be said—the vital progress we need in the world, the work toward radical justice, the need to call out privilege in all its forms and create new structures of spirituality and society that uphold everyone. My learning has just begun.
Before this year, I was also increasingly frustrated with faith, and with my Mennonite denomination—a conflicting position to be in when you are in a year of voluntary service for the church. Mennonite Church USA's official stance is one of exclusion for LGBTIQ people, and I was ashamed of the ways in which a church I belong to, a denomination I grew up in, treats people with such inhumane cruelty. I worried by staying I endorsed what I do not believe. I was angry that individual interpretations of scriptures written thousand of years ago are upheld over treating people with long-overdue respect and dignity. Our interpretations say more about us then they do about the text; we see what we want to see, says Virgina Ramey Mollenkott. I am still frustrated.
It was also a year in which the church voted to uphold the Confession of Faith that denies full personhood to all. I saw a broken system and all the ways in which religion as a whole was being used to cause harm and back systems that uphold white, heteronormative patriarchy and perpetuate discrimination. Many religious denominations tell women what to do with their bodies and shut them out of leadership, keep LGBTIQ people and people of color living in a world of violence and hurt. Political conversations are fraught with references to faith, and not in a good way. This year Baltimore was on fire and acts of white terrorism flourished in the South. I struggle with Church. I have a hard time labeling myself as a Christian. I did not want to align myself with institutions that often perpetuate such hurt.
But in the words of Virginia Ramey Mollenkott, "the church is not going to be church if everyone walks out – some people have to stick it out." And at WATER, I began to untangle my faith from church, to see it as separate. I found faith in feminism, in work for change. Faith, to me, is much more about our actions lived out in the world.
At the same time, I began to see that my ties to church were powerful in the right communities. I found definitions of faith in the WATER community, and at Hyattsville Mennonite Church, a welcoming congregation, and through the wonderful people in my own congregation back home who were supporting me through this year of service. On a Sunday morning at Hyattsville, we would stand to sing in four-part harmony songs that have been in my mouth since I was a child. It's the kind of music that can fill you up, the kind that made Garrison Keillor's favorite performance of his career. In those moments I remember the goodness of what we are and what we can be.
Faith has the potential to be inclusive and aligned with social change and embody the kind of love we all so desperately need. That kind of faith is what lasts when you strip away the glossy perfection of tradition and realize the flaws that lay within, ones which cannot be fixed without much work. I began to see the importance of staying within a religious tradition through all its shortcomings because change comes from within. I believe the core of a tradition endures even as we seek change. My spirituality has been challenged by my inner conflict for loving the Mennonite Church but loving equality more. I hope, in time, I will no longer need to feel so conflicted. Until then, I seek comfort within communities I feel most aligned to while hoping for discussion and dialogue, as well as asking for grace for the ways in which my impatience and my beliefs can hinder those conversations.
And there were small victories: the passing of marriage equality for all, the Confederate flag taken down, the hiring policy changed to inclusion at my Mennonite alma mater (thank you, Goshen College!). The women of WATER celebrated same-sex marriage on the steps of the Supreme Court and toasted with champagne in our office. These are small steps on a long road ahead.
During a conversation with Cindy Lapp, pastor of Hyattsville, she said that faith is about belief, but even more about action. Discrimination on the basis of gender, sexuality, race, religion or any of the other neat boxes we like to compartmentalize others into has no place in church. Faith becomes worthless if it is not manifested by unwavering, no-holds-barred love and acceptance—the kind of love Jesus showed to everyone. Faith, to me, is how we treat each other. How we live in community together. How we lift each other up every day.
This is where WATER's work comes in: using feminist religious values to create social change. Co-founders Mary and Diann have worked in these spaces for more than 30 years, and make space for young feminists to find their own voices, to continue on the journey of this work together.
Every August, WATER takes a break and the carpets get rolled up for cleaning. It's a strange intimation of an ending; the rugs go and so do we. The challenge as I leave is what it will look like to carry on this work away from WATER, just as WATER's work will, of course, continue, with Mary and Diann's brilliant leadership and new sets of young feminists. Mary and Diann are fond of saying: Once a part of WATER, always a part of WATER. I know that just because I leave a space does not mean I leave a community.
In June, WATER hosted a party for the documentary Radical Grace. We ate brie cheese and fig jam with the filmmakers and the nuns who starred in the movie and have given their lives to the work of social change. One of the nuns, Simone Campbell of NETWORK, told us that gifts are often given before you know you need them. My time at WATER was just that.
My perceptions have been altered and more clearly defined. I have been the recipient of incredible hospitality, made lifelong friendships, and learned in a classroom that taught me more about the world, about myself and about how to build a life of feminist and activist work than any before. I am so grateful to Mennonite Voluntary Service and my home congregation, College Mennonite Church in Goshen, Indiana, for giving me the opportunity to be at WATER and with the Menno community in DC.
Thank you to WATER for a year of books, scones and conversations, for a year of recognizing privilege, working to dismantle patriarchy and power structures, and keeping us all awake to what must change. Thank you for teaching by example how to be fierce, united feminists who have never and will never take no for an answer.
Your light spreads so far. I promise to carry a little flame with me.
https://www.waterwomensalliance.org/wp-content/uploads/photo-12-scaled.jpg
2560
1920
waterstaff
http://www.waterwomensalliance.org/wp-content/uploads/water-logo-rgb-300dpi-1030x208.png
waterstaff
2016-05-25 14:40:08
2016-05-25 14:46:31
What WATER Gave Me