Women's Alliance for Theology, Ethics and Ritual (WATER) at the Women's March on Washington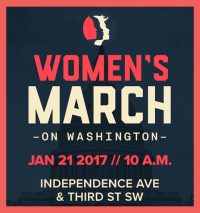 Join us on Saturday January 21, 2017 in Washington, DC as "We stand together in solidarity with our partners and children for the protection of our rights, our safety, our health, and our families – recognizing that our vibrant and diverse communities are the strength of our country." (https://www.womensmarch.com/mission/ )
When: 9:45AM
Where: The Southwest corner of Independence and First Streets SW, across from the Botanical Gardens. Look for a blue scarf and flags! We don't have a sense of how large the march will be, but it is always fun to walk together, meet new people, and enjoy the spirit of the day.
Transportation: The closest Metro stations are L'Enfant Plaza (Green, Yellow, Orange, Blue & Silver lines) or Federal Center SW (Orange, Blue & Silver Lines). Another option is Capitol South (Orange, Blue & Silver Lines). Driving downtown on that day is strongly discouraged. See the Metro's website, https://www.wmata.com/ to make your plans.
RSVP: If you want to march with WATER, please RSVP to Hannah Dorfman at waterstaff@hers.com so we can keep an eye out for you.
If you have any issues on Saturday morning, please call Hannah at (614) 403-1340.
What to Bring: Wear warm, comfortable clothes with good walking shoes—this is not a fashion parade. Plan on some standing around before it starts, and presumably there will be a rally at the end so that is more standing. A water bottle is a good idea. Be sure to have a Metro card with enough fare to get home, as lines to buy them in the stations can be long. Cell service can be iffy in large crowds so a back up communication plan with your friends is a good thought. Texting can sometimes be easier than getting a call through.
Information: Since we don't have any privileged information, it is best to consult the March website https://www.womensmarch.com/ for any new details.
Solidarity: The March in DC is one of many happening around the country. So if you can't get here, please enjoy some form of solidarity in your local area. Together we are a "the strength of our country."
https://www.waterwomensalliance.org/wp-content/uploads/womensmarch.jpg
510
480
waterstaff
http://www.waterwomensalliance.org/wp-content/uploads/water-logo-rgb-300dpi-1030x208.png
waterstaff
2017-01-11 16:51:03
2017-03-03 14:56:44
WATER at the Women's March on Washington