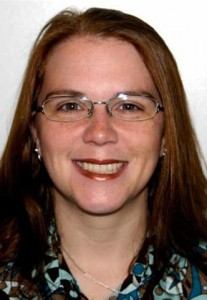 "HIV/AIDS and Christian Marriage in East Africa"
Melissa Browning, Ph.D., is the Graduate Program Director of the MA in Social Justice and Community Development for Loyola University Chicago's Institute of Pastoral Studies. Her primary research areas include feminist theology and ethics, sexual ethics, bioethics, and HIV and AIDS. Her most recent project, and the subject of her conversation with WATER, focuses on the ways in which marriage is an HIV/AIDS risk factor for women in East Africa. In this project, Melissa builds on fieldwork completed in Mwanza, Tanzania where women were asked to re-imagine Christian marriage as a space of safety and health for women. The book coming out of this research, When Marriage Becomes Risky: Reflections from Tanzania on Christian Marriage in an HIV Positive World, will be published by Lexington Books (Rowman and Littlefield) later this year.
Melissa has presented numerous papers at academic conferences and has published both academic and popular articles. Among those that might be good background reading for this teleconference are:
"Listening to Experience, Looking Towards Flourishing: Ethnography as a Global Feminist Theo/ethical Praxis" (article and film) with Edith Chamwama, Eunice Kamaara, Sussy Gumo Kurgat, Damaris Parsitau, Emily Reimer-Barry, Elisabeth Vasko, and Jeanine Viau, Practical Matters, Issue 3, Spring 2010.
"HIV/AIDS Prevention and Sexed Bodies: Rethinking Abstinence in Light of the African AIDS Pandemic," Theology and Sexuality, Vol. 15.1, 2009: 27-46.
"Reexamining our Words, Reimagining our Policies: Undocumented Migration, Families, and the Moral Imagination," Journal of Poverty, Vol. 13, 2009, 1-20.
"The Goods and Evils of a Globalized Context: African and American Women Doing Theology," with Susan A. Ross and Elisabeth T. Vasko, Concilium International Journal of Theology, 2009/1.
Join us on Wednesday, October 10, 2012, at 1pm (EDT) to talk with Melissa Browning on the subject of "HIV/AIDS and Christian Marriage in East Africa," as she shares her recent work.
Email the words "Register Me Browning" to waterstaff@waterwomensalliance.org by Tuesday, October 9th in order to receive dial-in information.
http://www.waterwomensalliance.org/wp-content/uploads/water-logo-rgb-300dpi-1030x208.png
0
0
waterstaff
http://www.waterwomensalliance.org/wp-content/uploads/water-logo-rgb-300dpi-1030x208.png
waterstaff
2012-09-26 15:42:52
2016-03-23 16:13:50
October 10 Teleconference with Dr. Melissa Browning