Clarita Luz Ajo Lázaro Visits WATER
by Mallory Naake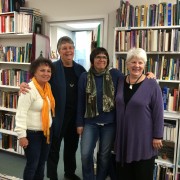 The WATER office was full of laughter, stories, tea, chocolate chip scones, simultaneous translation between Spanish and English, old friends and new connections, joyful tears, and Spanglish one October Friday. Hospitality was in action, just one thing women contribute to the church.
Longtime friend of WATER, Clarita L. Ajo Lázaro, made her first visit to our Silver Spring office. The occasion brought a variety of women to the WATER office. In addition to Clarita, Diann Neu, Mary E. Hunt, and two WATER staff associates (Emily Harder and myself), we were joined by WATER friends Cindy Lapp and Cynthia Tootle, and new colleague Rosa Colmenarejo from Cordoba, Spain, a visiting scholar to Georgetown University arrived with her friend Marie Keefe. Each one shared her story and how we came to arrive at the same table together.
Clarita was introduced to the WATER community in the early 90s when she was a doctoral student at the Universidade Metodista de São Paulo where Mary was a visiting professor. Additionally, Mary was on Clarita's doctoral committee where she defended her thesis, "The Body in the Feast of the Sacred: a theological and liturgical proposal that recuperates the body as a sacred space", which examines the intersections of the Cuban Episcopal Church and the Santeria Religion of the Yoruba tradition of Africa. In 1997 Clarita connected to WATER through A Shared Garden, a project focused on the eradication of violence against women through ecofeminism which brought together communities of women in Santiago, Chile, Recife, Brasil, and Washington, DC.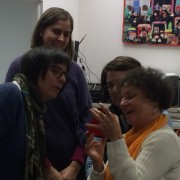 Currently, Clarita serves as both vice rector and professor of systematic theology, ethics and anthropology at Seminario Evangélico de Teología in Matanzas, Cuba. In the classroom Clarita attempts to open her students' minds and hearts to a variety of theology and practices outside of their traditional upbringing. She is an expert on Santeria in Cuba; the religion encompassing beliefs of the Lucumi (Yoruba) peoples who were enslaved from Africa to Cuba and attempted to preserve their own ideals and traditions under imposed Christianity (Ajo, WATERwheel Summer 2001). Mary and Diann, along with Rev. Claudia Highbaugh, visited Cuba in 2001 to learn and share. Mary returned in 2015.
Outside of the seminary Clarita works with a group of Episcopal Santeria women who are organizing their local congregation in ways that best reflect their lives and contexts. After their church building burned down, the women moved to a small outbuilding where they gather to celebrate in community. Clarita shared their stories jubilantly so it felt as if they were at the table as well. She feels these women are unbound by the hierarchy of the church to practice freely.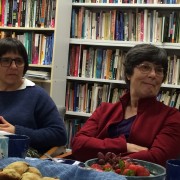 Throughout her visit, Clarita's energy and enthusiasm infected us all. Connections became tangible: Clarita and Rosa connected with one another, both connected to the WATER community, and I saw how global relationships are formed. If this is what feminism and the WATER community are about, this is where I want to be.
https://www.waterwomensalliance.org/wp-content/uploads/IMG_0739-e1445978627132-scaled.jpg
2560
1920
waterstaff
http://www.waterwomensalliance.org/wp-content/uploads/water-logo-rgb-300dpi-1030x208.png
waterstaff
2015-11-04 14:40:05
2016-01-04 14:40:26
Clarita Luz Ajo Lázaro visits WATER