by Paul Massari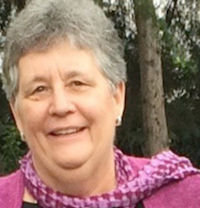 Mary E. Hunt, MTS '74, has no time for hand-wringing. She's deeply concerned about the future of the country and the world, particularly since last November's election.
She speaks with a sense of urgency about the plight of immigrants, refugees, people of color, women, dependent children, and the natural environment. But Hunt has come too far—and is too busy working for justice—to indulge in despair.
"The election was a wake-up call to me and to many other activists, religious leaders, and theologians not only to double our efforts, but also to recognize that we are very experienced in this work now," she says. "That's the reason why we turned out, for example, three million people for the so-called women's marches around the world. We're not starting from zero."
Wherever they start, activists who work through the principles of feminist liberation theology will build on a foundation established in large part by Hunt and her colleagues. As the co-founder of the D.C.-area nonprofit Women's Alliance for Theology, Ethics, and Ritual (WATER), Hunt and her partner Diann Neu have spent nearly 35 years building an educational/spiritual space that brings together feminism, faith, and justice.
For this work—and a lifetime spent fighting for social change—Hunt's fellow HDS alumni will recognize her at the School's bicentennial celebration this April as a Peter J. Gomes STB '68 Memorial Honoree.
"I am grateful and honored to be mentioned in the same breath as Peter Gomes," she says. "I am inspired by his good humor and stylish hospitality, edified by his excellence in intellectual and pastoral pursuits, and challenged by his integrity. I look forward to living up to this award as many more opportunities to evolve and embrace come our collective way."
Moving beyond "white privilege"
The daughter of an Irish Catholic family, Hunt describes her upbringing in Syracuse, New York, during the postwar economic boom as "quite comfortable." A parochial school education, however, acquainted her with "white privilege" when she was still young.
Her high school experience included service at an inner city program and a Native American reservation. She saw grinding poverty first-hand during two summer stints with the Christian Appalachian Project in Kentucky.
"We engaged in the typical kinds of service projects that are still part of many Catholic schools today," she says. "These exposed me to racism, economic inequality, and marginalization."
Hunt continued on to college at another Catholic institution, Marquette University. There she majored both in theology and philosophy but still graduated in only three years. Nominated for a Danforth Fellowship, she applied to HDS, earned admission, and enrolled in the fall of 1972, part of a cohort of women who for the first time made up a substantial portion of the HDS student body. Hunt found herself with some remarkable classmates.
"Diane Miller succeeded in becoming the most highly-placed woman in the Unitarian Universalist Association," she says. "Susan Andrews works as the General Presbyter for the Hudson River Presbytery. Cynthia Campbell was president of McCormick Theological Seminary. Ruth Purtilo is a world-renowned medical ethicist. Sheila Davaney taught at Iliff Theological Seminary and led the Ford Foundation's work on religion. It was really an amazing group of women."
Two scholars then on the HDS faculty had an outsized influence on Hunt. The Catholic theologian Rosemary Radford Reuther introduced questions of gender and sexuality into the School's curriculum. The Uruguayan Jesuit priest and liberation theologian Juan Luis Segundo did the same with economics and international relations.
"They seeded, both of them, what I think has become enormously important at the divinity school," Hunt says, "the women's larger project in terms of religion and gender and also Latin American studies—materials that have emerged through a variety of scholars at HDS subsequently. Later, my own doctoral dissertation had its roots in watching those two people try to introduce new material into what was essentially a white, male, liberal, Protestant divinity school."
From HDS, Hunt enrolled in the doctoral program at the Graduate Theological Union in conjunction with the University of California, Berkeley. In the process, she also obtained a master of divinity from the Jesuit School of Theology Berkeley, completing the curriculum necessary for ordination as a Catholic priest.
It was there Hunt decided that having "a professional and personal life that was seen as being full of integrity" meant being an "out" lesbian. It was a costly choice in the 1970s, particularly for an aspiring Catholic academic, but one that Hunt says she felt morally obligated to make.
"Because of institutional prejudices, I certainly was never a particularly viable candidate for a tenure-track position in a Catholic university as an out lesbian and pro-choice," she says. "Those things just didn't go together in those days. But look, if white, middle-class women like me aren't out, how can we expect the same from women of color or women who are poor or people in countries where homosexuality is illegal?"
A vibrant resource for social change
Following her doctoral program, Hunt traveled to Argentina with Frontier Internship in Mission, a program founded by the Presbyterian Church and designed to develop international ecumenical leaders.
After two years there, Hunt lectured in Europe, then returned to the United States. Her partner Diann Neu, then a nun, lived with some members of NETWORK, the Catholic social justice lobby based in Washington, D.C. One person suggested that Hunt start something similar, specifically an alliance for women in theology. So, she typed up a two-page proposal and shopped it around to colleagues who urged her and Neu to launch the new organization. The two decided to move forward but needed a name for the project.
"One day, I woke up and said, 'Well, you know, if we added ethics and ritual to this women's alliance for theology, we could call it WATER. Wouldn't that be funny?' Well, it's been WATER ever since."
Over the course of 34 years, Hunt and Neu have built WATER into a vibrant organization that goes far beyond conventional approaches to religion to provide a wide array of intellectual, political, and spiritual resources to those working for social change.
Neu, who holds master's degrees in divinity and social work as well as a doctorate in ministry, works at the intersection of psychology and spirituality, serving those whose concerns neither ministry nor therapy can fully address.
Hunt writes, teaches all over the world, and organizes WATER's connections with a range of coalitions that include the Women-Church Convergence made up of progressive groups like Catholics for Choice and Dignity. WATER is also a member of the National Religious Leadership Roundtable, a coalition of LGBTIQ faith groups.
"Our work is really to connect people who are activists, religious leaders, students, and allies—anybody who wants to bring about social change using feminist religious values," she explains. "That's a pretty broad portfolio, because feminism has grown from a gender-based understanding to a much more intersectional analysis of race, and class, and nationality, and ability, and certainly sexual orientation and gender identity."
On any given day Hunt could be in Washington, D.C. running a phone-based meditation group; in Mexico City lecturing to feminists as part of WATER's Mujeres Cruzando Mundos (Women Crossing Worlds) initiative; or in Brazil doing theological work with Catholics for Choice.
Because WATER runs with a very lean administrative structure—the group has only three full-time staff with at least as many summer interns—Hunt says it can remain nimble and allow its agenda to reflect changing needs of the world.
"The way we operate has kept us not only busy and relevant but also in a certain vanguard of thinking and doing around the concerns that now more and more people see as important," she says. "Issues related to women, dependent children, anti-poverty, anti-racism—those are the kinds of things that have always been a part of our underlying mission over the years."
Leadership for the future
Hunt says WATER's agility is more important than ever in the wake of last November's elections. ("I tell people, if your agenda hasn't changed, you're not paying attention.") She's encouraged by the way that people have mobilized since then but says that lasting, positive change demands more than demonstrations and disobedience.
"I don't think that resistance alone is sufficient," Hunt says. "I think that creativity always goes hand in hand with resistance. And so, while we're certainly resisting the ways in which, for example, immigrants and refugees are being treated, the ways in which environmental protections are being dismantled, the effort to undo reproductive justice, turn back queer gains and so forth, we need also to create alternatives, and really live those out. We have to live out a different vision, even if it's in a small way."
Looking forward, Hunt says that her perspective is increasingly influenced by the fact that she and Neu have a 16-year-old daughter. She thinks a lot about how the world is for young people—and about the future they will inherit.
"I see the great failings of my own generation as well as the great achievements," she says. "We've made a deep impact among a small circle of friends, but the broad base of our impact was certainly not felt in the last election. Now it's our responsibility as religious leaders to keep ourselves together and do the work that's needed. That means creating livable, habitable, welcoming, embracing spaces, where people and animals and other parts of creation can be nurtured and can thrive. That's what we at WATER have always tried to do. It's work that's more necessary and urgent than ever."
https://www.waterwomensalliance.org/wp-content/uploads/maryheadshot.png
208
200
waterstaff
http://www.waterwomensalliance.org/wp-content/uploads/water-logo-rgb-300dpi-1030x208.png
waterstaff
2017-04-27 14:53:51
2017-04-27 14:59:03
A Thirst for Justice