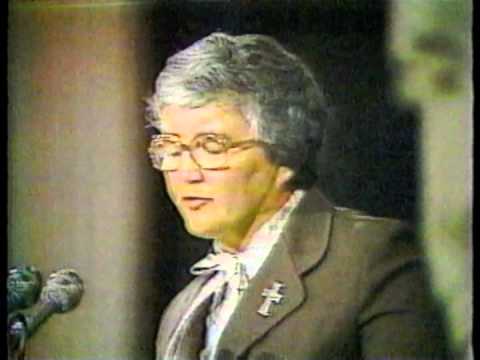 Thirty-five years ago, on October 7, 1979, at the National Shrine of the Immaculate Conception in Washington, DC, Theresa Kane, Sister of Mercy, offered her gracious, generous welcome to Pope John Paul II on behalf of U.S. women religious on the occasion of his first visit to the United States. Her prophetic words bear rereading on this anniversary:
"As I share this privileged moment with you, Your Holiness, I urge you to be mindful of the intense suffering and pain which is part of the life of many women in these United States. I call upon you to listen with compassion and to hear the call of women who comprise half of humankind.
As women we have heard the powerful messages of our Church addressing the dignity and reverence for all persons. As women we have pondered upon these words. Our contemplation leads us to state that the Church in its struggle to be faithful to its call for reverence and dignity for all persons must respond by providing the possibility of women as persons being included in all ministries of our Church.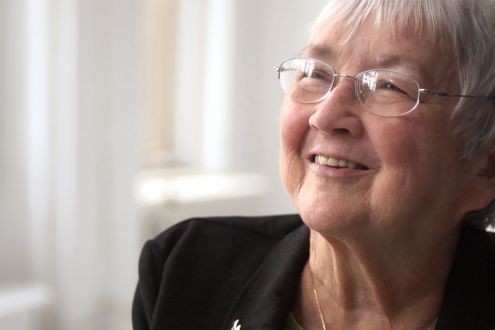 I urge you, Your Holiness, to be open to and respond to the voices coming from the women of this country who are desirous of serving in and through the Church as fully participating members."
The Pope and Vatican officials responded negatively to what were then and remain now strong and clear words spoken by a woman who dared to act as an equal member in a biased church. Theresa inspired many women to do the same, planting seeds of feminist ministry and encouraging robust spirituality despite subsequent decades of continued discrimination and oppression. Seizing her moment, and doing so with such dignity and grace, Theresa Kane became an embodiment of full personhood.
WATER thanks and celebrates Theresa for her courage and integrity.
-Mary E. Hunt
Join us on Tuesday, October 28, 2014, 1 PM EDT, for a special WATERtalk, "Making History, Making Change: A Conversation with Theresa Kane." We will reflect together on the historical importance of the event, the many repercussions that followed, including the current problems that American nuns and other lay people experience with the Roman Catholic Church. We will envision together what lies ahead for those who embrace a commitment to equality.
REGISTER HERE! Feel free to email Cathy at waterstaff@hers.com if you have any trouble registering or need more information. Thank you!
https://www.waterwomensalliance.org/wp-content/uploads/Theresa_Kane_2.jpg
360
480
waterstaff
http://www.waterwomensalliance.org/wp-content/uploads/water-logo-rgb-300dpi-1030x208.png
waterstaff
2014-10-07 14:22:52
2014-10-08 09:16:41
35 Years Ago Today: Theresa Kane's Witness