Notes from WATERtalks: Feminist Conversations in Religion Series
"Holy Women Icons: Folk-Feminist Iconography and an Intersectionally Ecofeminist Philosophy of Creativity"
An hour-long teleconference with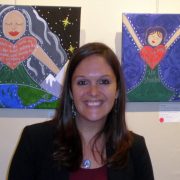 Angela Yarber
Wednesday, November 7, 2018
1 PM – 2 PM ET
Mary E. Hunt Intro: We welcome you to the tenth 2018 WATER teleconference on Wednesday, November 7, 2018 WATERtalk with Angela Yarber "Holy Women Icons: Folk-Feminist Iconography and an Intersectionally Ecofeminist Philosophy of Creativity."
Like all of WATER's efforts, our purpose is not simply theoretical. Rather, we are focused on changing the cultural and intellectual assumptions that ground discrimination, exclusion, and destruction. This discussion is our contribution to the dilemmas of the moment. Given the results of yesterday's midterm elections, we hope that our conversation is a small step toward unraveling the moral morass in which we find ourselves.
Let me introduce Angela Yarber who, with her partner Elizabeth Lee, both having received doctorates from the Graduate Theological Union in Berkeley, are developing "Holy Women Icons: Folk-Feminist Iconography and an Intersectionally Ecofeminist Philosophy of Creativity" through the Holy Women Icons Project that they founded and direct. I am delighted to provide a venue, albeit on the phone for what is largely a visual medium, for people to become aware of this important, creative work. I daresay it has the potential for a broad and wide reach given the need we each have to express our creativity and our commitments.
Rev. Dr. Angela Yarber is the Executive Director of the group, a queer intersectionally ecofeminist non-profit that seeks to empower marginalized women by telling the stories of revolutionary holy women through art, writing, and special events. She holds a Ph.D. in Art and Religion from the Graduate Theological Union—where she followed the great Victoria Rue in that distinguished program. Angela has been a professor of Women's, Gender, and Sexuality Studies.
She is the author or coauthor of seven books, four of which were awarded Top LGBTQ Christian Books of their respective publication years. Her writing addresses the intersections among the arts, gender and sexuality studies, and religion. Dr. Yarber has painted nearly 100 folk-feminist icons of revolutionary women from history and mythology, and over 75 of her originals are in galleries and homes all over the world.
Angela and Elizabeth and their child live on the Big Island of Hawaii where they are creating a retreat center to house the Holy Women Icons Project. To see her artwork, purchase books or prints, or to learn more about the non-profit, please visit www.holywomenicons.com.
This is one of the few new, entrepreneurial projects in feminist studies in religion in the last ten years. I welcome it as proof that the arts are key to social change and that we have to create what Mary Daly called the 'New Space' and 'New Time' to do our work. This creative project is not reinventing the wheel, but inventing itself as it goes along. I hope you feel the encouragement of WATER as your project grows.
Today Angela Yarber will be sharing stories of revolutionary holy women in the hope that in times as troubled as ours the stories might empower and inspire others, especially marginalized women. The whole point of the folk feminist iconography as she will discuss is to fill in the gaps in religious tradition that have offered mainly masculine holy figures. Angela's priority is queer women of color who are holy sources of inspiration.
We look forward to your presentation. I am only sorry we do not have a visual to go with this presentation, but a quick trip to the website as www.holywomenicons.com will solve that problem. Welcome Angela.
Angela Yarber: Thanks for that introduction, and for the invitation to be here. I've long admired both WATER and Mary's work, so I'm incredibly grateful to be giving a WATERtalk. As a fledgling non-profit, the Holy Women Icons Project often speaks of WATER as what we aspire to be. And on this day after the election, as we are all experiencing a cavalcade of emotions, I can think of no better things to talk about than intersectional ecofeminism, creativity, revolutionary women, and justice, for the four are inextricably linked. So, with that in mind, I'd like to begin with a story of sorts.
The scene is Saint Catherine's Monastery. After an awkward encounter with a spitting camel, I'd climbed Mount Sinai just in time for the sun to peak over the horizon. With dawn upon me I was able to enter—with permission and a male priest as guide—the chapel of Saint Catherine's. A sensory overload awaited me as incense, candles, golden chandeliers, and the largest assortment of icons I had ever seen welcomed my road-weary eyes.
I was engulfed by a pantheon of male saints. Holy men whose life and work we read about in the canons of the orthodox church. I'd heard of them, read their writings, but now they were all glaring at me. Brooding eyes. Hands uplifted in a blessing, but a bit frightening nevertheless. I wasn't there for them, though. I was there for an unnamed girl who died in one of the most tragic acts of violence recorded in scripture. I'd read that centered on the altar at Saint Catherine's was a giant crucifix. Standard. Understood. Expected. On the right side of the crucifix was an icon depicting the binding of Isaac, which according to Jewish tradition, is a celebration of God's intervention when Abraham nearly slaughtered his only child, his son, Isaac. And on the left side of the crucified Christ was the oldest depiction of Jephthah's daughter: the dancing child who greeted her mighty-warrior-of-a-father with a song and dance only to be slaughtered because of a faithless vow her father foolishly made in the midst of battle.
Overwhelmed, I stared straight ahead. The crucified one looked back at me in agony. But I knew what fate awaited him. According to the Christian tradition, this crucified one was resurrected. Glancing right I saw Isaac bound and I knew his fate, as well. Spared, saved by a ram and an angel. I looked to the left and saw a missing space. I gasped. "Where is Jephthah's daughter?!" I asked the orthodox priest guiding me. "Oh, Jephthah's daughter is down for cleaning," the priest informed me. There's something about cleaning an icon that humanizes it a bit. Less relic; more painting. I was escorted to a small room where I could be alone with this nameless child (as alone as one can be with a tall orthodox priest looking over one's shoulder).
I was struck by this pantheon of male saints, venerated, honored, painted, adored, perhaps even worshipped. I was struck that, above the altar stood three icons. The crucified one had a name, of course, Jesus, and after he suffered and died, his tradition teaches that he rose again. The bound son of the faithful father had a name, too, Isaac, the child of promise. His near-death experience led to faithfulness and new life. But the daughter of the faithless father was nameless, sacrificed as a burnt offering. The only holy woman icon I could find was slain. Not resurrected. Not spared. Killed violently by her own father. Where were all the women?
This was 2005. After more months, more icons, and more memories I was reminded of the only other time I'd spent with icons. As the American embassy was bombed in 1999, I was hunkered in a Russian orthodox church in Belgrade, surrounded by another sensory overload of whitewashed male icons, for the majority were historically men of color, but certainly didn't look like it in their artistic portrayals. I remembered the way I felt when I met the gaze of each icon only to see someone completely "man", not at all like me. Where were all the women?
Time passed. I finished a Ph.D. program focused on Art and Religion and studied iconography in Hindu and Buddhist traditions, including being engulfed in another pantheon of male saints amidst temples in Thailand. Where were all the women?
Confronted with a virtually all-male sainthood in every major wisdom tradition, the Holy Women Icons Project gives traditional iconography a folk-feminist twist. Leaving the arenas of stained glass and iconography, I looked into the public square, textbooks where our children are taught our history, those lofty tomes of power that tell us who we are, where we came from, and what we can aspire to be. And yet again I asked, "Where are all the women?"
Thus began a new life-long project: Holy Women Icons. Subverted. Feminized. Queered. Folked. Resisted. And, I hope, Revolutionary. Far from complete, these Holy Women Icons stem from history, literature, mythology, and the arts. Though not all of my icons are historical figures, their stories, myths, and narratives have been an important part of the lived histories of countless women from across cultures, faith traditions, and generations. Black Jewish historian, Julius Lester, contends that "History is not just facts and events. History is also a pain in the heart and we repeat history until we are able to make another's pain in the heart our own."
Accordingly, the cry of each woman's heart is written poetically on each canvas, engulfing the entire heart, which is typically the largest element on the icon. By highlighting what I envision is within the hearts of these holy women, I hope that the pain of their hearts may become our pain.
That is why I paint these myriad holy women. That is why I published a book about their stories—accompanying each icon with an essay describing the woman—in my Holy Women Icons book in 2014 (now in need of a second volume). It is why I drew each of them and invited others to join in the co-creating process when I published the Holy Women Icons Contemplative Coloring Book two years later. It's why I do traveling exhibitions, and even why the Holy Women Icons Project offers prints, cards, and all kinds of merchandise featuring these folk-feminist icons. It's why we offer several different online retreats featuring their revolutionary stories as fodder for self-care, mindfulness, or queer spirituality.
Because, one day, I'd like to stop asking, "Where are all the women?" Many feminists cling to the notion, "If you can't see it, you can't be it." The Holy Women Icons Project is an opportunity to see women, and particularly queer women and/or women of color, who have done revolutionary work throughout history, yet whose stories remain hidden in the crevices of our canons at best, strategically erased at worst. It is for these myriad reasons that my wife and I joined together to turn this work—the folk-feminist iconography, the writing, and the events related to the painting and writing—into a non-profit organization: The Holy Women Icons Project here on Hawaii Island where we're co-creating an ecofeminist retreat center to house this work.
Within the non-profit, there is the undergirding philosophy that propels this project. That is intersectional ecofeminism. Ecofeminism, put most simply, is the intersection between ecology—or sustainability and environmentalism—with feminism. Since ecofeminism has historically remained under purview of essentialists who often ignore and exclude the voices of women of color and trans women, I intentionally seek to make this project intersectional. Rather than only highlighting the importance of women's issues, intersectional feminism claims that feminism can only be true and just and applied if it pays careful attention to the intersections of power and privilege with regard to race, class, ethnicity, ability, sexuality, size and gender. At the intersections of gender, sexuality, race, ability, religion, and environmentalism, you can find the Holy Women Icons Project, which seeks to empower marginalized women by telling the stories of revolutionary holy women through art, writing, and special events. Whether it's painting over 100 revolutionary women from history and myth, writing about these women, or offering online retreats featuring their stories—from Self-Care and Mindfulness retreats to Queer Spirituality and Advent, lifting up these revolutionary women is what we do.
The lives, legends, and legacies of Pauli Murray, Gloria Anzaldua, Sappho, Marsha P Johnson, Anna Julia Cooper, Dolores Huerta, and so many other historical women join with the myths of Santa Muerte, Hina, Borghild, Guanyin, Sarasvati and myriad other goddess figures, along with women from scripture, such as Jephthah's daughter, the Shulamite, Judith, Miriam, Mary Magdalene, and others to comprise the bulk of the revolutionary holy women I've painted and written about in the Holy Women Icons Project. Because we all need to hear more stories about the revolutionary women upon whose shoulders we rest.
Emma Goldman is famously remembered for saying, "If I can't dance, I don't want to be part of your revolution." Another prophetic feminist, Toni Cade Bambara, claimed, "the purpose of a writer is to make revolution irresistible." And the bold artist Liza Lou added, "What art does is to coax us away from the mechanical and toward the miraculous." Between dancing, writing, and painting, creativity has revolutionary and subversive potential. And I'll be honest in admitting that I've often struggled, as a feminist artist and queer clergywoman, to claim the revolutionary power of my creativity when there is protesting to do, policy to pass, legislation to overturn, systemic violence seeping through the pores of our white supremacist, cisheteropatriarchal culture, work to be done to change lives and do justice and make the world a better place. When I engage in this inner struggle, I cannot help but think of a conversation between Israeli folk dance founder, Gurit Kadman, and the director of the Histadrut, Avraham Levinson. In the midst of the horrors of the Holocaust, Kadman approached Levinson and proposed the need to celebrate and affirm the Jewish body by hosting a dance conference. He responded, "Have you gone crazy? You want to hold a dance conference during times like these, during Hitler's times?" Kadman responded, "The Jewish people are never able to be joyful." A creative activist and dancer, Kadman knew something that is easily forgotten: the prophetic power of creativity to evoke revolution. Like Kadman, Goldman, Barbara, and Lou, I, too, believe that creativity is a vital part of revolution. Often misunderstood, the goal of aesthetics, of creativity, is to create a more beautiful world, a world where everyone can be inspired and surrounded by beauty. Aesthetics, put most simply, is the study of beauty. Justice is attained not simply when the hungry are fed horrible processed food or when someone without a home is covered by a dank and rickety shelter. Rather, when all have equal access to what is beautiful, delicious, healthy, and inspiring, then justice has come. As artists, we have the ability to help create such a world. Not decorative. Not peripheral. Not a distraction. Creative justice. Life-changing beauty.
And now we find ourselves left with the question I always ask my students at the close of class. We've talked about intersectional ecofeminist philosophy and folk-feminist iconography, and now we must ask ourselves, "So what?" In a moment I will turn that question over to you to hear your responses. First, though, I'll briefly tell you how the Holy Women Icons Project is responding to the question of "So what?" by offering three new programs launched this year.
The first is the Revolutionary Girls Program, where we took the histories and myths of these revolutionary women into schools and programming for adolescent girls ages 11-15. Studies show that confidence and self-esteem plummet at the onset of puberty for adolescent girls. Prior to this, girls feel they are as strong, smart, and capable of leadership as boys. Then they begin to be judged almost solely for their appearance. This, combined with sexism and the absence of women in their history books, has a detrimental impact on children across the gender spectrum. Beginning in Hawai'i County, the poorest in the state, and most ethnically and racially diverse in the nation, we are telling these stories to adolescent girls to help inspire, empower, develop emotional intelligence, and help create socially-aware leaders for the future. Doing this in Puna made me realize that we need a full K-12 curriculum, so now we're seeking funding to create a full scale curriculum that essentially takes the course I've taught undergraduates and translates it into developmentally appropriate material for children K-12.
The second is the Holy Women Icons of Grief Project, which lifts up the stories of women and goddesses associated with grief and death around the world. With the commodification of deathcare at the turn of the twentieth century, Westerners are left stifled in our grief, emotionally and financially drained at the capital enterprise of the funeral home industry. This project seeks to offer containers for the bereaved to be held in our grief by learning about holistic practices of grief associated with these myriad grief goddesses from around the world.
Finally, we launched the Queer Holy Women Icons Project, which includes folk-feminist iconography of queer women of color, resources for open and affirming faith communities, Online Queer Spirituality Retreats, and worship resources for spiritual communities seeking to widen their embrace. Because we rarely honor and celebrate queer stories, and even within the queer community, the legacies of queer women of color are often whitewashed, overlooked, or forgotten. This erasure is an injustice and we are all lesser for it. Consequently, the Queer Holy Women Icons Project celebrates the stories of queer people of color who identify as women, trans, genderqueer, or gender non-binary, from Pauli Murray to Audre Lord, Marsha P Johnson to the Shulamite, Guanyin to Frida Kahlo, Perpetua and Felicity to Gloria Anzaldua.
So what? In these ways, and so many more, we listen to the stories of revolutionary women and respond to the "so what" question by seeking to empower and inspire with actions of creativity, justice, and radical imagination. As we uncover the stories of so many women worthy of celebration, it is my sincere hope that Holy Women Icons will provide a glimmer into the rich history of holy women who have creatively stood for justice, danced for freedom, and loved unabashedly. Above all, it is my hope that the icons and stories of these holy women will inspire you to acknowledge the holiness dwelling within your own heart. Honor it. Invoke it. Live it.
More than that, it is my sincere hope that these inspiring women will embolden you to be an agent of revolutionary, inspirational, and creative change in our world. May your heart be so filled with the beauty and pain of their stories that it seeps into your veins, limbs and life in such a way that you will act to overturn systems of injustice and oppression, creating a world where all women—indeed, all creation—may find the deep worth residing within. Thank you, and as we say here in Hawai'i, mahalo nui loa.
 MEH: Thank you, Angela, for your enlightening remarks. Feel free to go to www.holywomenicons.com for more information.
Q+A
Q: Do you have any tips on creating icons? Are there any icons painted of Delores Huerta?
AY: It's interesting because the theology or study of beauty and aesthetics often clashes with how beauty is most often used in western cultures. Ideals set against women in western cultures (white, thin, young, etc.) are idealized, unattainable, racist, etc. It is challenging for women to be able to look in the mirror and find beauty and see the innate worth within when we are assaulted by these unrealistic images in all forms of media. That is one of the myriads of reasons why in the majority of my paintings, the heart encompasses the entire torso. The white feminist spirituality types of paintings when analyzed by an art historian would be similar to a formal analysis of a Playboy pinup. All sizes of bodies should be celebrated, but instead these paintings erase women's bodies that don't look that way. What I want to do is show what is important about a women dwells within our hearts. One activity that I do for women at our retreats is to have them cut out a giant heart the size of their own heart or torso and have them write the cry of their heart poetically on it. This might seem like a small thing but doing something like that can be powerful for women who have had eating disorders or just the shame that I have talked about which is heaped upon our bodies.
I have paintings of Delores Huerta and have an original print for sale in my tiny home gallery that can be found here.
Q: The "Mother of Exiles" piece on your website has moved me profoundly. I have felt deeply healed, enlightened, and empowered as an activist by this piece and would love to share this image with others. Do you have any thoughts to share for those of us who struggle to find the time to do their art when other tasks such as making phone calls for a wonderful candidate seems like a more productive use of time?
AY: This is a challenging thing to do. Women in particular are taught that art is a hobby that should come second while putting everyone else first. Our activist culture is also bad about this, saying that we need to be out on the front lines protesting, lobbying, making phone calls, etc. For me, the more I learn about these revolutionary women like Emma Lazarus, Gloria E. Anzaldúa, Maya Angelou, and Audre Lorde who all carved out the time to do this beautiful work, the more I understand that this type of work is just as valid. We are painting and writing a more just and beautiful world. Something that I have written in my journal this past year while I am struggling with being new in running a non-profit is that painting and writing is enough. I see doing my work as a form of self-care. Think of your work as part of the process of justice making. It's not something that is peripheral or decorative.
I would be delighted for you to use the Mother of Exiles and share it with others. I love for people to use any of my icons in any noncommercial way as long as they give credit and say who the artist is and share the website. A piece that I realized is not on the website is a painting of "Mothers At The Border." The message behind these weeping women whose children are behind the cage, for me spoke to the power of what is happening right now and how we need to respond.
Q: Do you know the dancer Mallika Sarabhai a strong Indian feminist dancer who was seeking to give a different kind of dance interpretation of resistance? The link to Mallika Sarabhai's Ted Talk can be found here.
AY: I have not heard of this particular dancer. My work started because I was a professional dancer for over a decade and my first book was "Embodying the Feminine in the Dances of the World's Religions." Bharatanatyam (a classical Indian dance stemming from the devadasi system) was my main focus in the Hindu tradition in India. Learning about Shiva's dance, saraswati, and the history of the devadasi movement that have revolutionary and subversive potential, I think is incredibly beautiful and has parallels in a lot of other traditions (although not in the Christian tradition). I have adored learning some of those dances and seeing them.
Q: Is there music that you think of that flows naturally with some of your images? Who are some of those artists we might enjoy?
AY: I always have certain music playing whenever I paint. Artists that come to mind are Tracy Chapman, Indigo Girls, Brandi Carlile, and Lindsey Stirling (violinist). Specifically I think of Tracy Chapman's Talkin' About A Revolution starts with a whisper. I thought of that song related to many of the women who I have painted because they had to indeed whisper in order for anybody to hear them or to not be silenced. I remember a fabulous clergywoman who was at an interfaith gathering with me who evoked those words from Chapman once and said, "it's often the whispered prayers of women in the corners of places where they aren't permitted to speak that stir up and ignite revolution."
Q: When I think about your work, the closest cognate I can conjure is LA based scholar and minster Kittredge Cherry who's Jesus in love blog is well worth a visit. Can you mention others we might like?
AY: One amazing artist is Harmonia Rosales who takes classic paintings and replaces the figures with black women. She was recently under fire for her painting of God as a black women, her work is both amazing and revolutionary. Another person who is doing important work connecting the arts with radical imagination and activist theology is Robyn Henderson-Espinoza. Robyn participated in a WATERtalk that can be found here. An artist whose style inspires me is Shiloh Sophia McCloud. Those are the women artists who are coming to mind now that I would want to lift up.
Q: Can you round out this conversation by saying something about your retreat work?
AY: We are physically building a retreat center, which will take awhile. In the meantime we know that getting to Hawaii can be challenging and expensive so on our website we offer a variety of online retreats that can be found here.
7-Day Self-Care Retreat
7-Day Queer Spirituality Retreat
Mindfulness Retreat
Advent Reflections
For each day the retreats offer an image of one of the icons, a brief reflection essay describing her and applying it to the theme of the retreat, a guided writing exercise, a ritual or embodied exercise, and an opening/closing blessing. These can be done anywhere you have Internet access. The price range is from $20 to $60. The information from the retreat comes directly to you everyday through your email. One great thing about them is that they are "stand alone" and you can do them anywhere and at any time. We also have scholarships and discounts available because we want everyone to have access to these. The retreats really feature revolutionary women who can inspire and embolden us moving forward in the work that we do.
---
WATER thanks Angela Yarber for this inspiring and unique presentation.
Please join us for our next teleconference, Wednesday, December 12, 2018 from 1PM – 2PM "Roots with Ruth: Division and Dialogue" with Alice Laffey. Register here!