Notes from WATERtalks: Feminist Conversations in Religion Series
An hour-long teleconference with
Rebecca Todd Peters and Grace Yia-Hei Kao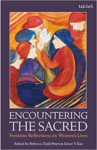 Wednesday, October 11, 2019 at 1 pm ET
Mary E. Hunt: Like all of WATER's efforts, our purpose is not simply theoretical. Rather, we are focused on changing the cultural and intellectual assumptions that ground discrimination, exclusion, and destruction. In these difficult times of impeachment, #MeToo, racism, anti-Semitism and discrimination against immigrants, it is crucial to know that women are struggling on many fronts. Hopefully this volume, and our discussion of it, will be helpful in overcoming the many forms of oppression marginalized people encounter. May it add to the joy that this seasons reminds us is a human right.
Grace Yia-Hei Kao is Professor of Ethics and Director of the Center for Sexuality, Gender, and Religion at Claremont School of Theology. In addition to co-editing this anthology, she is the author of Grounding Human Rights in a Pluralist World (Georgetown UP, 2011) and co-editor of Asian American Christian Ethics (Baylor UP, 2015). She is currently at work on a feminist Christian framework for assessing the ethics of surrogacy as well as a one-volume introduction to Asian American Christian Ethics. Grace is a Presbyterian laywoman who holds leadership positions in several professional societies including, Pacific, Asian and North American Asian Women in Theology and Ministry (PANAAWTM), and the Society of Christian Ethics. She serves on the editorial board of several journals (the Journal of Religious Ethics, Syndicate). She is active and busy with family and community so these stories I know flow from her everyday life as well as from her professional commitments. Her earlier WATERtalk on an ethics book was January 2016, available on our website www.waterwomesalliance.org.
Rebecca Todd Peters is Professor of Religious Studies and Director of the Poverty and Social Justice Program at Elon University. Her most recent book is Trust Women: A Progressive Christian Argument for Reproductive Justice which we featured in a WATERtalk in September 2018. Toddie was ordained in the Presbyterian Church (U.S.A.), she has been active denominationally and ecumenically for more than twenty-five years. She currently represents the PC(USA) as a member of the Faith and Order Standing Commission of the World Council of Churches. She received the 2018 Walter Wink Scholar-Activist Award from Auburn Seminary in recognition of her work on reproductive justice and poverty and economic justice and is currently a Public Fellow at the Public Religion Research Institute (PRRI). She, too, is one of the busier people I know, balancing as we all try to do family and academic work.
Who better than these two esteemed and cherished colleagues to reflect on ENCOUNTERING THE SACRED: FEMINST REFLECTIONS ON WOMEN'S LIVES.
Rebecca Todd Peters: The story of how this book came to be began in 2011 after the publication of my book, Solidarity Ethics, when I was doing a lot of work in churches. I kept going to Protestant churches and seeing flyer for a Beth Moore Bible Study. When I watched and listened to some of her speaking – she has a TV show, in addition to her prolific writing and speaking – I was stunned because she was not formally theologically trained and her work doesn't have much depth. I spent time wondering why there is such good feminist, womanist, and Global South feminist theology out there and this is what women in churches are choosing to study.
As I talked to friends and to Grace about this, I felt that part of the problem is that academics aren't creating material aimed to the needs of women in churches. We weren't translating the groundbreaking work in feminist theology into the kinds of study resources that women were hungering for. I thought, I want to have this conversation with feminist scholars, who have been taught by the academy to write in a certain way, but they themselves are sharing the experience of women in the church. I thought it might be revolutionary to have women with formal training to think deeply about their personal lives and write about that in ways that invite deeper theological reflection, and model that as a way of inviting lay women into doing feminist theology. So, in November 2011 I sent out invitations to friends to meet and have conversations to see if there is any interest.
Grace Kao: Toddie sold us on a vision, and explained the hunger and need, and we were all excited about it. I then reached out to her asking if she would welcome a co-editor. It was great to be mentored by her, as this was a place for my professional development.
Part of the vision for the book was to have a series of anthologies. We asked if we should organize the volumes topically, with the first volume being issues of reproduction, and the second on another topic. We decided against that approach because when there is space for women to talk theologically about their lives, the tendency is to slot them into conversations about reproductive matters. So while we have chapters on reproduction, there are chapters that go beyond that and address topics such as finances, gossip, death and dying.
We organized two writers workshop retreats, and because not everyone was trained to write for a popular audience, we had conversations about how we could disclose personal aspects of our lives in a way that would not invite voyeurism from the reader or leave the writer feeling too exposed. We discussed if we should use the word 'feminist' since 2011 was a slightly different time in the nation, before Taylor Swift and Beyoncé were using the word 'feminist.' We ultimately decided that everyone would provide feedback in editing one another's work, rather than simply having the editors do so. So, each author submitted a chapter, it was edited by two other contributors and the 2 editors.
RTP: I think editing books with multiple editors is part of a feminist model of scholarship. With all of the edited books I've done, it's been the work with my co-editors that has been the life-giving part of my work. For this book, even though we had 12 contributors, they all felt more like co-editors. The way we developed the book felt like a commitment to developing feminist models of scholarship.
GK: The fact that we were sharing space, cooking meals, and walking together was a beautiful part of working together – we were embodied people. I feel like we've raised the standard for what edited work should look like and I now want them all (or at least those that I'm part of) to be collaborative!
RTP: There are 10 chapters in the book. As we were developing this project, I remember that I would consider about my colleagues' lives and imagine what they would write, and then they would suggest their own topics based out of their own interests and questions that were different than I anticipated. The chapters come from meaningful experiences in the authors' lives that they identified as things they wanted to think through theologically in ways that would invite other women to share about their own experiences. As academics we are trained to write in a certain way, and the authors did a great job reworking chapters to discuss theological topics in ways that invite people into conversation.
I hope that people don't read the book by themselves. I hope that people read and talk about the book with others, and sit together in living rooms and coffee houses and share about their own lives and where they see theological meaning in their own experiences. To facilitate this, each chapter ends with questions for discussion, resources for further reading, and some kind of experiential piece, such as a prayer or ritual. The book is intended as a sourcebook to help people engage in study.
The titles of the chapters were a huge struggle. We were trying to write a book that would be popularly oriented, and attractive if you picked it up at a bookstore. We wanted titles to grab people but that's not how academics think, so Grace and I did a lot of work trying to frame chapter titles, and trying to convince colleagues. For example, chapter 1 is called, "Why We Need Besties (Friendship)" where we are trying to use language of how ordinary women talk.
GK: All the contributors have doctorates in religion or theology and most are faculty in these fields, and many are ordained. Most are in the 40-70 age range, Catholic and Protestant, white and people of colour, LGBTQ and straight & cisgender, different marital statuses. Still, it's impossible to get every category of people, and we are happy with how our contributors presented their diverse life experiences.
RTP: I still hold the vision that if we had 5 or 10 volumes of 10 different women each, it would create a large library of diverse life experiences
The publishing industry has changed with the influences of late capitalism, and rise of social media and blogging. Over the last 10-15 year, I have seen a marked difference in how we shop and consume. Of the books I have written and edited, this was the hardest book to find a publisher for. When we started pitching this book in 2012, every publisher said they don't publish edited anthologies – these books don't sell. Sales were driving publishing, and the value and quality of the product wasn't being judged individually on its merit. The ability to engage with publishers in discernment about the quality of the end product had changed quickly. These trends are dangerous and detrimental to feminists and minority voices, people who are trying to get alternative ideas published. We were also committed make this book affordable. The book was finished for years before we found a publisher who would publish it the way we wanted it to be published.
GK: When I signed onto this project, this was going to be my first edited anthology. By the time this was published, I had co-edited and published another anthology. Because we stuck to certain principles, it took a while, but ultimately, we are glad it's out and we are hoping it will receive the audience we wanted.
MEH: Thank you for the enormous work that goes into volumes like this. The major problem is that publishers are driven by the markets. This is such an important book because you don't apologize for putting women's stories first. You put them in the context of the broader theological conversation that can take place.
Question and Answer:
Q: I'm inspired by the saying of Sister Simone Campbell – "My faith impels me into the public square." I think there is an unexpressed desire among my gender for religious discussion, insight, and growth. Your book will reinforce my writing, by providing scholarship at the level of a Gr. 9, 10, 11 reader.
A: I'm glad you identified yourself as an ideal reader, and the folks you connect with. We would love to follow up with you and the ways that people are using the books.
Q: I'm ablaze with the learnings of WATER that I have been blessed to receive! I am trying to find ways to share what I have learned with my sisters who don't see how theology would be relevant to what we need to do, and how we need to learn to understand our lives. Your model made me think that maybe I could help to – collaboration sounds fun!
RTP: The journey was long. I began as the senior scholar and now Grace and I are both full professors. One person may start by mentoring the other, but we co-mentor each other now. That's what good healthy friendships and relationships do. We built deeper relationships with all the people we worked with.
Q: Does the fact that your authors were speaking of their own lives and issues allow new theological understandings of self and the world to arise?
A: Some authors had written about the experiences they wrote about in this book previously, in books or blog posts. But there were others who wanted to write about things they thought of. For example, Ellen Ott Marshall, who wrote about bedrest, had been thinking of how mothers are expected to sacrifice themselves for their children, and the very complicated feminist relationship with the call to model Jesus and be sacrificial. She reflected on the tension that she felt with that and the desire she felt to sacrifice herself for her children when she went on bedrest. Prior to this book, she had not written about that experience, and she reflected how the book was a helpful venue. For some authors it was an opportunity to think theologically and deeply about their personal experiences and for others, it was another take on something they had done some thinking about already.
As another example, Victoria Rue in her chapter on death and dying, is someone who was working in hospice and is familiar with the Christian literature on death and dying. But her issue for the chapter was what is a feminist theological practice and reflection on death and dying, and what does that do or add to an understanding of something the Christian church has thought about, but not necessarily in a feminist way. So, this was an opportunity to combine her personal experience, scholarly training, and professional experience to create something new.
Mary: See Judy Chicago's new exhibit,
"The End: A Meditation on Death and Extinction" 2019.
Q: What would a similar volume written by men look like? Or by teen and young women? Would their issues be different that the ones you got with this group? Some other issues could be divorce, coming out, transitioning, shifting faith perspectives.
These are expensive projects and this approach is the gold standard. How do we leverage resources to do more of these projects? Are there ways to operationalize this methodology?
RTP: Funding is important, but it worries me less than what I see is the bigger problem, the impenetrability of the book market, which is preventing the book from getting to the people who want to read it. There is an enormous gap between the hunger I know is there and the ability to convince publishers that there is an audience.
We had thought about an interfaith volume. I haven't thought about a parallel volume with men – but topics I would think of would be how it is different to co-parent, and the ways men are expected to be men. And younger adults, I have observed that they don't identify into the binaries that I grew up in. There is a plethora of ways that people are thinking of their gender and sexual identities.
GK: We've talked about different volumes. Of all the things you listed, I've never thought about a companion male one. If done well, I would endorse it. People are trying to figure out how to work through masculinity, and figure out if any of it is salvageable [or if it is all 'toxic']. Even if we are not the co-editors of the multi-volume envisioned, we hope that people continue to do this collaborative work.
Mary: I wonder if the shrinking number of people who are church identified may account for difficulty encountered in the publishing industry. But as you broaden out and become less focused on the church there may be more of a market. I think of Joan Chittister's work, and the way her operation churns out materials with an audience. You see her in a lot of popular bookstore. There are a lot of ways that this work can be shared. It would be an incredible audience if you were able to receive a grant and send this book to prisons as Joan does. I'm thinking there are marginalized groups who would find this work exciting.
Click here for an audio recording of the session.