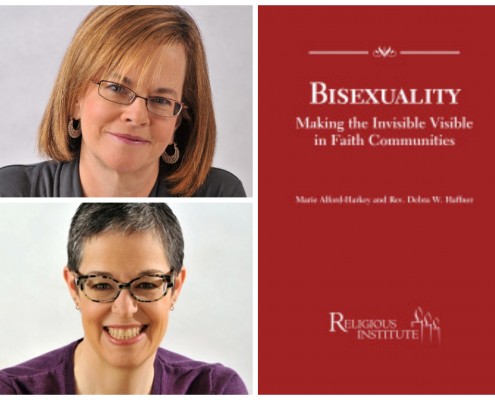 WATERtalks: Feminist Conversations
in Religion Series Presents
"Bisexuality:
Making the Invisible Visible
in Faith Communities"
An hour-long teleconference with
Debra Haffner and
Marie Alford-Harkey
Wednesday, October 8, 2014
1 pm – 2 pm EDT
---
Debra and Marie will talk about their new book, Bisexuality: Making the Invisible Visible in Faith Communities. 
Debra W. Haffner is co-founder and President of Religious Institute, Inc. An ordained Unitarian Universalist minister, she is also the endorsed community minister with the Unitarian Church in Westport, CT. Rev. Haffner was the chief executive officer of SIECUS, the Sexuality Information and Education Council of the United States, from 1988 through May 2000. Rev. Haffner is the author of several guides and books on sexuality, as well as books on parenting. Rev. Haffner has a Master of Divinity degree from Union Theological Seminary, a Master of Public Health degree from the Yale University School of Medicine and an undergraduate degree from Wesleyan University. In 1996-97, she was a Research Fellow at the Yale Divinity School. She is a past Fellow of the Society for Adolescent Medicine and a visiting professor at Union Theological Seminary, Pacific School of Religion, and Yale Divinity School. Rev. Haffner has been married for more than 30 years and is the proud mother of two young adult children.
Marie Alford-Harkey is Deputy Director for the Religious Institute. An educator with twenty years of classroom experience, she holds a Master's in Divinity from the Episcopal Divinity School in Cambridge, Massachusetts, and is an aspirant for Holy Orders in the Episcopal diocese of Connecticut. Ms. Alford-Harkey is a provincial coordinator for Integrity USA and a board member of Integrity Connecticut, an organization that works for full inclusion of LGBT people in Episcopal faith communities. Ms. Alford-Harkey has led workshops at Union Theological Seminary and Hebrew Union College-Jewish Institute of Religion in New York. She has preached and spoken on faith and sexuality issues in diverse contexts, including at the General Convention of the Episcopal Church, and from Episcopal, UCC, and Unitarian Universalist pulpits.
Reccomended Reading:
Bisexuality: Making the Invisible Visible in Faith Communities (Religious Institute, 2014) particularly the Introduction, pp 1- 3; "Healing the Suffering,"  pp. 22-24; "Theological Connections,"  pp. 30-31.
---
Feel free to email Cathy at waterstaff@hers.com if you have any trouble registering or need more information. Thank you!

Meditation/Contemplative Prayer
"The Journey Towards Justice" with Janet Bohren
Monday, October 6, 2014 at 7:30 PM (EDT)
at WATER and by Telephone
Our next gathering for Contemplative Prayer at WATER will be with Janet Bohren on Monday, October 6, 2014, at 7:30 PM (EDT). Register Here!
WATER offers a contemplative prayer opportunity each month. This is a communal meditation, a time of silence and reflection followed by discussion.
The office will be open at 7 PM (EDT) for tea and conversation. Silence will commence promptly at 7:30 PM, so please be here by then. We will conclude by 8:30 PM.
Parking is free in the garage behind the office after 7 PM. The front door of the building has a phone entry system; find "WATER" and dial the office to be buzzed in, or dial 0310.
All are welcome. Some of us have been involved in the Engaging Impasse process (www.engagingimpasse.org), which combines meditation with community dialogue. No experience is required; just come with a contemplative spirit. Your presence will enrich us all. Donations are always welcome. If you have any problems with registration, please email waterstaff@hers.com.

by Melody Stanford, intern, summer 2014
My internship at WATER over the summer provided a unique opportunity to grow in ways I could not have expected. I relished the chance to learn directly from Mary and Diann's brilliance. More particularly, I was able to absorb a special set of soft skills that this groundbreaking team has honed over the years.
A couple of months after completing the program, I am only now unpacking the significance of these experiences.
As I came into my first day at the office, I thought I knew what it meant to connect and communicate in a professional setting. I didn't realize there was so much to learn.
I learned what it means to be a colleague, and treat others as colleagues. I learned that radical hospitality means dropping everything when someone walks in the door, giving them my full attention, and anticipating a broadening collaboration.
I learned that checking in with people personally and holistically is part of a healthy organization. I learned to communicate speedily, consistently, and warmly. "You can never thank people enough," as Mary says. We practiced connecting with artfulness and sincerity.
I learned how play, and fun, can be an integral part of intensely hard work – indeed, that the work itself should be fun, …or go do something else!
I learned to think in terms of hybridity – finding unusual solutions, and giving myself permission to forge new paths with confidence. I learned to be a little more fearless, and a little less apologetic.
I learned to question starry eyes and blind spots toward icons of all kinds. Instead, I was able to see on a fundamental level how valuing the person can occur simultaneously with weighing all assumptions and ideas.
I learned how to create relationships of exchange and mutuality – building consistent tidal patterns of giving and taking, and that this constructive approach is key to sustaining working relationships in the academic/activist worlds, and beyond.
These lessons can only be learned in praxis and community. I am so thankful for the chance to rehearse outlandish Be-ing with my colleagues and friends, and I anticipate this training will benefit me for many years to come.
Thank you, Mary and Diann, for an unforgettable summer in the WATER office.
---
Melody Stanford is a current MDiv student at Boston University with an interest in postcolonial feminist theology and spiritual-collaborative activism. She graduated from Wheaton College (IL) in 2007 with a dual degree in business/economics and Bible/theology. She worked in business and marketing for several years, developing a freelance graphic design business. Concurrent to her graduate studies today, she works with non-profits on a wide range of consulting and branding projects. She was recently invited by the Mission Institute at Episcopal Divinity School to teach a series of workshops on creating effective websites for churches.