WATERtalks
"In Conversation about Transgender Inclusion"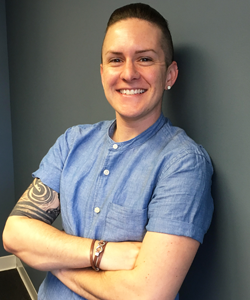 with Rev. M Barclay of Reconciling Ministries Network
Wednesday, September 13, 2017
1 PM – 2 PM ET
Join us for the first WATERtalk of the 2017-2018 season with Rev. M Barclay, the first non-binary trans person to be commissioned as deacon in the United Methodist Church, who will discuss their ministry.
Rev. M Barclay is the Director of Communications for Reconciling Ministries Network, an organization working for LGBTQ inclusion in the United Methodist Church. M served for two years as staff liaison to United Methodist Alliance for Transgender Inclusion (UMATI). M received a Master of Divinity at Austin Presbyterian Theological Seminary. They have worked as a hospital chaplain, youth director and justice associate, and faith-based organizer for reproductive justice. M also does extensive speaking, writing, preaching, and teaching on the intersections of faith and social justice. A self-identified theology nerd, M is convinced that in every conversation about social justice and being human, there is an opportunity to engage the Divine, Mystery, Love, and the interconnectedness of all of creation. M is pansexual and a non-binary trans person who uses singular they/them pronouns.
We will provide recommended readings for those who register for this talk.
Feel free to email waterstaff@hers.com if you have any trouble registering or need more information. Thank you!