WATERtalks
"Faith Rooted Organizing:
Public Theology, Healing Justice and Moral Imagination"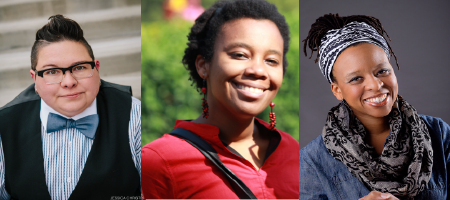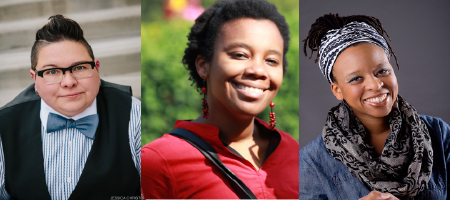 with Robyn Henderson-Espinoza, Jennifer Bailey, & Micky ScottBey Jones
from Faith Matters Network
Wednesday, October 11, 2017
1 PM – 2 PM ET
Join us for our October 2017 WATERtalk with Robyn Henderson-Espinoza, Jennifer Bailey,
& Micky ScottBey Jones from Faith Matters Network.
Robyn Henderson-Espinoza knows that borderlands are a place of learning and growth. Robyn draws on their identity and heritage as a Trans queer Latinx in everything they do. From doubt to divine and everywhere in between, their call as an activist-theologian demands the vision to disrupt hegemony and colonialist structures of multi-layered oppressions. As an anti-oppression, anti-racist, non-binary Trans*gressive Latinx, Robyn takes seriously their call as an activist theologian and ethicist to bridge theories and practices that result in communities responding to pressing social concerns. Their writing can be found in the Huffington Post, Sojourners, Religion Dispatches, and many other places.
Jennifer Bailey was named one of 15 Faith Leaders to Watch by the Center for American Progress. She is an ordained minister and itinerant elder in the African Methodist Episcopal Church, a public theologian, and an emerging national leader in multi-faith movement for justice. Rev. Bailey is the Founding Executive Director of the Faith Matters Network, a new interfaith community equipping faith leaders to challenge structural inequality in their communities. Jennifer has a decade of experience at nonprofits combatting intergenerational poverty. Her writing can be found in On Being, Sojourners, the Huffington Post, amid other publications.
Micky ScottBey Jones – the Justice Doula – is a womanist contemplative activist, healer, nonviolent direct action organizer and consultant who facilitates conferences, workshops, pilgrimages, retreats and online conversations. She writes and speaks on healing justice, communal self-care, contemplative activism, intersectionality and theology from the margins. She is the Director of Healing Justice with Faith Matters Network. The Huffington Post named Micky one of the Black Christian leaders changing the world. Her writing can be found in such publications as The Porch Magazine, Sojourners, the Voices Project, Evangelicals for Social Action, and Red Letter Christians.
We will provide recommended readings for those who register for this talk. All are welcome! Join us for an important conversation.
Feel free to email waterstaff@hers.com if you have any trouble registering or need more information. Thank you!