In Memory of Her: Dr. Virginia Ramey Mollenkott
January 28, 1932 – September 25, 2020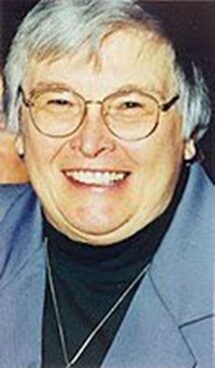 The Women's Alliance for Theology, Ethics, and Ritual (WATER), joins family and friends, the Evangelical and Ecumenical Women's Caucus/Christian Feminism Today, and the Sisterly Conversations group at Kirkridge in mourning the death of our beloved friend and colleague Dr. Virginia Ramey Mollenkott.
Her long and unique life of committed scholarship, activism, and faithful witness made her a cherished member of many circles. She leaves a multitude of survivors. We at WATER appreciate her many contributions to the Alliance and we reverence her name.
Dissertations will be written about Virginia's influential books, including her extensive consideration of the female nature of the divine, same-sex love, and transgender life. She was a scholar of John Milton and brought her considerable skills at textual analysis to Hebrew and Christian scriptures. She worked to make the language of Christianity more inclusive, the spirituality more palatable, and the whole enterprise more welcoming. As a pioneer on LGBTQI+ issues, and especially coming from an evangelical starting point, Virginia opened many doors and minds.
One of her many contributions to the field of feminist studies in religion was Virginia's bridgebuilding between evangelical women and others who take a more philosophical approach to faith. She was a fearless critic of small-minded church officials, a stalwart advocate for justice on many fronts. She led the way when the way was not clear to many others.
She was also a wonderfully supportive mentor and friend to countless people. Stories abound of how her care and friendship saved people from the throes of despair, the brink of self-destruction. Such a learned companion in struggle is a great blessing.
Anne Linstatter offers a lovely obituary at https://marthaymaria.blogspot.com. Virginia's website https://www.virginiamollenkott.com/ is a rich resource of information about her life and work.
WATER will miss our dear friend and colleague. Her books line our shelves; her life gladdens our hearts. Virginia Ramey Mollenkott, Presente!
-Mary E. Hunt