In Memory of Her: Carolyn Farrell, BVM
November 2, 1934 — June 14, 2020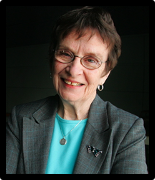 WATER extends deep sympathy to the Sisters of Charity of the Blessed Virgin Mary and to the Farrell Family on the death of our longtime friend and colleague, Carolyn Farrell, BVM. We rejoice in the fullness and fruitfulness of her life of education, sisterhood, and friendship.
Carolyn was an educator from her earliest teaching in Catholic schools to her last contribution as the Director of the Roberta Kuhn Center, an adult education program at the BVM Motherhouse in Dubuque, Iowa where she lived. She was the founding director of the Ann Ida Gannon Center for Women and Leadership at Loyola University which was the next iteration of the congregation's Mundelein College. Carolyn educated as Mayor of Dubuque from 1980-1981, teaching as the first (and only) woman mayor that women are fully capable of governing. It was only the Vatican's interference that kept her from further public service.
She was the embodiment of sisterhood. Carolyn served on countless committees and in various leadership capacities in her religious community. She led the BVM Women's Office, a vehicle for women's empowerment. She was active in the Women-Church Convergence, "a coalition of autonomous Catholic-rooted groups working to build just social and ecclesial structures with shared power for everyone, especially women and those whom church and society marginalize." Her commitment to the passage of the Equal Rights Amendment and to women's full participation in the Roman Catholic Church went hand in hand with her commitment to immigrants, racial justice, and human rights.
Carolyn was a friend's friend. She took her relationships seriously, valuing the many people from all walks of life with whom she interacted. No occasion was too small for Carolyn to send a card, note a birthday, encourage with a call. She was not a glad-handing politician, but a trusted, genuine companion to the many friends, including her family, who were lucky enough to be in her circles. Her signature pins that she wore virtually every day were often gifts from people who shared her stylish, upbeat, hopeful way of living.
We at WATER treasure Carolyn. She educated us, she worked with us, and she was our dear and cherished friend. It is with heavy hearts that we bid adieu to her. We give deep thanks for her life. We take inspiration for the road ahead. We will "keep on keeping on" as you advised, Carolyn. And you can be sure that there will be "more later" as you always promised.
---
Funeral Services will be Wednesday, June 24, 2020 in the Marian Hall Chapel.
Livestream: https://portal.stretchinternet.com/bvmsisters/  No password needed; scroll down to select Farrell services
Sharing of Memories (submitted in writing):  9:30 – 10:15 a.m.  Send to dforster@bvmsisters.org or amckenna@bvmsisters.org
Virtual Visitation: 10:30 a.m. – 10:45 a.m.
Mass of Christian Burial 10:45 a.m.