WATERtalks: Feminist Conversations in Religion Series 
"Creating Radical Grace"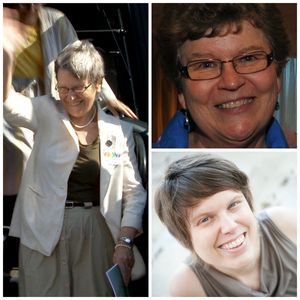 with Rebecca Parrish, Simone Campbell, & Chris Schenk
Wednesday, October 7, 2015 at 1 p.m. EDT
Watch the trailer for Radical Grace here!
---
Rebecca Parrish is the director of Radical Grace, winner of Hot Docs and AFI Docs audience awards and recipient of a "year's best films" review from RogerEbert.com. She is a documentary cinematographer and editor whose work harnesses the power of human stories to effect positive change. Rebecca also makes impact videos for nonprofit organizations through her company, Interchange Productions, founded in 2007.
Rebecca identifies as an agnostic or "soulful skeptic." She is excited to share the wisdom of the sisters' spiritual traditions with a broader audience and to support efforts to reform and transform patriarchal religious institutions.
Simone Campbell is a Sister of Social Service who has served as Executive Director of NETWORK since 2004. She is an attorney and a poet with extensive experience in public policy and advocacy for systemic change. In Washington, she lobbies on issues of peace-building, immigration reform, healthcare and economic justice. Around the country, she is a noted speaker and educator on these public policy issues.
In 2012, she was also instrumental in organizing the "Nuns on the Bus" tour of nine states to oppose the "Ryan Budget" approved by the House of Representatives. This budget would decimate programs meant to help people in need. "Nuns on the Bus" received an avalanche of attention across the nation from religious communities, elected officials and the media.
She has received numerous awards, including a "Franklin D. Roosevelt Four Freedoms Award" and the "Defender of Democracy Award" from the international Parliamentarians for Global Action. In addition, she has been the keynote or featured speaker at numerous large gatherings, including the 2012 Democratic National Convention.
Prior to coming to NETWORK, Simone served as the Executive Director of JERICHO, the California interfaith public policy organization that works like NETWORK to protect the interests of people living in poverty.
In 1978, Simone founded and served for 18 years as the lead attorney for the Community Law Center in Oakland, California. She served the family law and probate needs of the working poor of her county.
She is also the author of A Nun on the Bus: How All of Us Can Create Hope, Change, and Community, published in April 2014 by HarperCollins.
Chris Schenk is a Sister of St. Joseph and an online columnist for the National Catholic Reporter. She is the founding director of FutureChurch which she led from 1990 – 2013. As part of the Women in Church Leadership initiative Chris created what would become a successful 20-year effort to restore awareness of St. Mary of Magdala as the first witness to the Resurrection and a respected leader of the early Church. Formerly Chris worked as a nurse midwife to low income families. She has a Master's degree in Theology from St. Mary's Seminary and Graduate School of Theology in Cleveland, a Master's of Science from Boston College and a B.S.N Magna Cum Laude from Georgetown University.
Chris is currently researching a book about women's leadership in early Christian art and archaeology.
---
Registration Closed
Visit our WATERtalks page for notes and an audio recording from the talk.
Thank you!