Notes from WATERtea:
"Women's Quest for Peace"
International Women's Day
Tuesday, March 8, 2022

The video recording is available here.
WATER gathered on International Women's Day to support one another in our peace efforts and to stand in a symbolic way in solidarity with our siblings in Ukraine and Russia. Music and tapestries from Ukraine formed the backdrop of remarks by three speakers and conversation among all participants.
We opened with a bit of bandura music, a piece entitled "The Girls Are Plowing" played by the Women's Bandura Ensemble here in the US. A bandura is a plucked string instrument, something between a zither and a lute played in Ukraine.
https://www.facebook.com/watch/?v=1813353348946452
Our speakers followed:
Caribbean feminist writer and activist Peggy Antrobus, founding member of the network of Third World feminists promoting Development Alternatives with Women for a New Era (DAWN) and author of The Global Women's Movement: Origins, Issues and Strategies (2004) kicked off conversation. She underscored the importance of dealing with sexism, racism, and imperialism as constituent part of war. Alliance building and grassroots organizing, as well as feminist-led women's movements are essential to peace-building.
Swedish Lutheran priest and retired theological ethicist in Uppsala, Sweden, Ann-Cathrin Jarl picked up the thread by expressing her deep concerns about the war from a European perspective. Sweden's status as a European country that is related to but not a member of NATO, and has a proud history of peace efforts puts it in a unique position. Memories of Chernobyl are still fresh. Ann Cathrin trembled at the thought of nuclear disaster. She marveled at the strength and fortitude of the Ukrainian people, led by President Zelensky, and bemoaned the fate of children who suffer hunger and thirst as refugees. Ann-Cathrin charged the Military Industrial Complex with profiting from the region's losses, and expressed little optimism for a negotiated settlement.
U.S. graduate student at Columbia University, School of International and Public Affairs and  member of the United Nations team of Pax Christi International Sophie Jay laid out some of the policy issues at hand. She, too, expressed trepidation as the situation in Ukraine worsens and international efforts, including those of the UN General Assembly are useful but apparently not sufficient to stem the tide. Millions of refugees are on the move. Racism is ever present in the decisions about whom to support and whom to restrict. Still, there are virtually no women at the negotiating tables and feminist voices are missing in many quarters. The Biden Administration is in a tough spot with sanctions only minimally effective and with domestic pushback against inflation and soaring gas prices. All seek effective next steps which remain elusive at this writing (3.15.22).
Small groups formed to discuss: How are you and your community deepening your feminist commitments to peace? People reported local efforts—peace rallies, materials donations, pressure on governments and politicians. Solutions are lacking but just coming together to hear feminist perspectives on the issues is a small step.
The session closed with an image of Our Lady of Ukraine and a blessing that Diann Neu shared: Our Lady of Ukraine, spread your cloak of protection over the people of Ukraine and deliver them from all dangers. Hear our desperate prayers for peace and bring an end to war. Let us do justice and mercy. Amen. Ashe. May it be so today.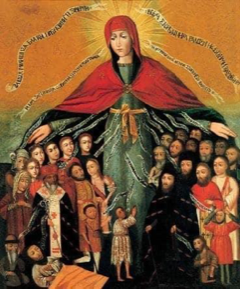 The finale was a rousing folk song sung by a women's singing group at Colabee Studios in Krupove, Ukraine https://www.youtube.com/watch?v=LxPbc45rkr8
WATER is grateful to our three speakers, Peggy Antrobus, Ann-Cathrin Jarl, and Sophie Jay for their wisdom and insights. With them, we extend our sincerest hopes for peace.
Resources
Following are resources shared in the Chat and afterwards.
Our Clarifying Moment: A Global Call to Action, March 3, 2022, Mary Yelenick
https://www.allianceforpeacebuilding.org/afp-publications/our-clarifying-moment-global-call-to-action-3322.
Peggy Antrobus,. The Global Women's Movement: Origins, Issues and Strategies. London: Zed Books, 2004.
Ann Cathrin Jarl. In/Justice: Women and Global Justice. Minneapolis: Augsburg Fortress Press, 2003.
Khury Petersen-Smith, "Why Binary Thinking on Russia's Invasion Is a Losing Strategy"
https://www.yesmagazine.org/opinion/2022/03/07/russia-ukraine-nato-military-war?utm_medium=email&utm_campaign=YTW_%2020220311&utm_content=YTW_%2020220311+CID_2ab6a24fa921ffe76c785f1ccf592bef&utm_source=CM&utm_term=Why%20Binary%20Thinking%20on%20Russias%20Invasion%20Is%20a%20Losing%20Strategy.
Genevieve Vaughan, The Gift Economy, http://gift-economy.com/.
Just World Educational webinars are recommended: https://justworldeducational.org/.
Robert Freeman, "How the U.S. Could Solve the Ukraine Crisis Tomorrow," https://www.commondreams.org/views/2022/03/07/how-us-could-solve-ukraine-crisis-tomorrow.
From Beth Blissman, Loretto UN staff:
—-conversation with Gail Worcelo and Bernadette Bostwick on "The Wisdom of Women in the Eco-zoic Era: An Introduction to the Sisters of the Earth Community," https://youtu.be/tU5VJtQ54tk
—-  "Gender Equality Today for a Sustainable Tomorrow," https://www.youtube.com/watch?v=vDNAzq4qgiM, the official UN (United Nations) Observance of #IWD2022.
—- "WOMEN RISE: The To-Do List for Gender Equality | United Nations | Women's Day," where five prominent leaders gathered at the SDG Studio to discuss the priority actions to achieve SDG 5 (Gender Equity) by 2030 part of UN-sponsored #IWD2022.
https://youtu.be/0FLA0BMzy2s.
KAIROS invites you to a virtual event at the 2022 United Nations Commission on the Status of Women (CSW66), on March 22 at 10:00 a.m. – noon EST. The workshop, 'Women peacebuilders build back with environmental and economic security', will feature KAIROS partners and focus on the intersection of Women, Peace and Security including women's human rights in conflict situations, economic injustice and the climate crisis.
https://www.kairoscanada.org/join-us-for-women-of-courage-workshop-csw66
This event will be held on Zoom and requires registration in advance, after which you will receive an email with a link to join the event.